May Knit Goals!
I'm prone to being a scatterbrain, so I try to make a short list of things to accomplish each month (lest I have 27 different non matching socks).
No throwing books during finals - Sucess!
Finish Yarrow Rib #2
Start (finish?) Entrelac Socks
Start Eunny's Vest, Ribbi Cardi #2
Work on Dumb Scarf
On the Sticks
K1, YO, K2Tog Scarf
Yarrow Ribbed Sock
Rogue
Raglan with lace panel sleeves
Ribbi Cardi #2 (black/purple)
Sweater-A-Month 2007
Picovoli: Cathay - Needs blocking
Cabled Hoodie: Cascade 220 - Needs seams
Urban Aran
Durrow - Done!
KnitPicks' Kimono Sweater: Silky Wool
[Sort of] Samus: Chester Farms 2-ply worsted - Some seaming and a whole lot of i-cord left
Ruffli Cardi
Top Down Raglan: Nashua Creative Focus Worsted - Needs blocked
Tricot: Ella Rae Classic (?)
Janda: Rowan All Seasons Cotton (gray/lavender/white) - Done!
Tubesque: Noro Garden + ???
Springfield (Cabley Twisty Rib Raglan): Cotton Plus
CeCe: ??
Lucy in the Sky: Shelridge Farms W4 (pink lemonade)
Rogue: Handspun
Shawl Collar Cardigan: Kathmandu Aran Tweed - Done!
Elizabeth Zimmermann's Bog Jacket
Ribbi Cardi: Cotton Ease (Black/Purple)
Ribbi Cardi: Cotton Ease (Blue/White)
Simple Knitted Bodice: Silky Wool?
Be a joiner!
An Unused Box!
Something should go here.
Something that went well
Wednesday, January 31, 2007
January

Start Lots of Sweaters - Done! I started Rogue with my Baltimore yarn, and the lace sleeve raglan with the Karabella. Rogue is somewhere along the lines of 1/3 done (two sleeves and a good part of the body) and the lace sleeve raglan is also about 1/3 (past the yoke, about 1/3 of the body).

Start at least two projects with the one-off balls of yarn in the closet - Done! I made a Fake Isle hat (magknits; no photo), a Triada scarf (although that technically wasn't yarn from the closet), I started my second falling leaf sock, and I started another pair of Glottens with some Koigu Kersti I bought in NY back in July.

(And in Old Goals: I finally seamed my Durrow sweater. No photos, yet. Must find right shirt to go with it.)

New for February

Finish Falling Leaves Socks (I'm halfway through the heel)
Start another pair of socks for hallway knitting
Finish Kersti Glottens (make notes on number of rounds used for fingers, so that fingers are same length!) (I have 1" more ribbing to go on #1 before really starting)
Finish body of Lace Sleeve Raglan
Order Super Secret Yarn (I love these covert knitting missions!)

ETA - Blogger has gone psycho! It's now emailing me Judy's comments (with some "no reply" email address), and not mailing me Amber's comments. Complete reversal!

Anyway, there will be no Durrow on Thursday, I don't have the right shirt, and even if I did, it wouldn't photograph well in the dark. I mean, I can bring it if you want to see the weird thing going on with the neck on the size small, but otherwise I was going to leave it at home.
posted by Amber @ 11:09 AM

FO: Triada (variations on a color theme)
Sunday, January 28, 2007
Pattern: Triada, Summer 2005 Interweave Knits
Yarn: Fiesta La Boheme (1 strand 100% rayon, 1 strand kid mohair/wool/nylon)
Color: Abalone (pink and purple)
Mods: Cast on 50, not 30, used a size 15 needle, not a 17
Notes: The first few rounds were a bit tricky (knitting/purling to stich below for fisherman's rib pattern, plus using such absurdly large needles). But once I got the hang of it, it was really fun, and really, really fast. I got the yarn on Friday and started working on it Saturday afternoon (after I seamed and blocked a sweater!) And it's so shiny! The perfect pick me up for cold rainy winter days.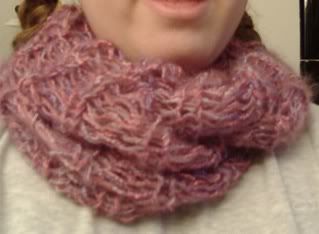 Bat cave, how I loathe your lack of light.
I'll try and attack someone at work tomorrow to take a picture in natural light. If there is any natural light tomorrow

I knew I wasn't going to wear it as a shoulder wrap/poncho, which is part of the reason I cast on 50 stitches instead of 30 - I wanted it to have a larger circumfrance, so I could double it around my neck, like in this photo. So sparkly.
posted by Amber @ 12:02 PM

Hey, is that what I think it is?
Friday, January 26, 2007
I just had my first knitty-on-the-street sighting! I was headed back to work after browsing the Stitch DC sale (Marie was there with Cole. Very cute.) and I saw a woman walking down the street wearing a Calorimetry. I almost stopped to ask what she used (it was black with flecks of jewel colors), but it was cold out and I wanted to get my lunch.

From the sale (I love sales!): I now have 9 balls of mission falls in nice oatmeal colored wool for a fairisley pullover with some christmas yarn, and one ball of Fiesta La Boheme in "Abalone" to make this scarfywrap thing Triada from the summer 05 interweave.

ETA: Pardon me while I grump out for a minute. This pattern calls for size 17 circular needles (16" or 24"). 17s! 12.75 mm! I wish there was a needle exchange program - I don't want to buy 17s for a single project. I don't even own 15s! It isn't like I use needles like this all that often. I think a size 8 is a huge needle! Does anyone have a 17 I could borrow for the week? Please? With a cherry on top?
posted by Amber @ 1:20 PM

Green thumb purple yarn
Monday, January 22, 2007
First, and the most important thing to happen in years: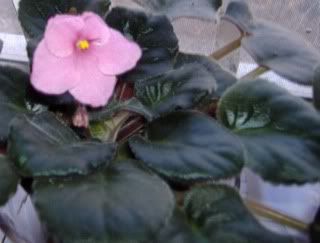 The first time since 2003 one of my violets has bloomed again! When I was in college I collected African Violets. There was a cute little plant shop in dupont circle, called "The Third Day." And they had two, sometimes three shelves of nice, full bodied, healthy African Violets. And occassionally, on the back table, they'd have some really scraggly ones, with only three leaves, shoved in tiny square pots, for $1 ($1.50 if it had four leaves). And I'd take them home, repot them, and they'd flourish. In the height of my collection, I had about 15. Constantly in bloom and always nice to look at. Then I changed dorms, had a different desk without a good flourescent study light (and, with three people in the same amount of space that previously had 2 people, much less surface space). So I sent them to my mom's house. Where they all promptly died.

This little guy I picked up at the Bentalou Elementary School Kindergarden Fundraising Plant Sale (coinciding with mother's day). I got two, for $2 each (in bloom!), and the blooms faded and I was left with a little bush of spindly greenery. But look! It bloomed again! Yay for the violet! Yay for me! (I have two sets of windows. They face east and north. Not exactly condusive to plants.) I need to try and find a better flourescent lamp like my old college desk light. I like violets. I would like a little collection again.

In other things I collect: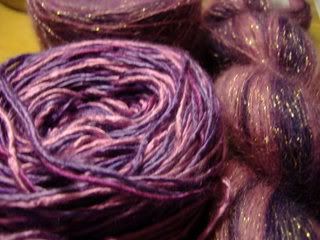 On Thursday I ordered Artyarns Silk Mohair glitter from Webs - and it was waiting for me when I got home! With shipping like that I'm definitely looking there for my online yarns! This, along with Regal Silk on the left, is going to be Tamarah from an Fall 06 Knitty ... which I was in love with as soon as I saw it. I rushed to Stitch DC and got the regal silk, but they didn't have the silk mohair. I got rowan kidsilk haze in a complementary color. I ordered the superpointy knitpicks needles to make my first go with lace weight yarn a little easier. In the end, the knitpicks needles were too slick, and I just wasn't loving the regal silk/kidsilk haze combo - the kidsilk just wasn't exactly the right color. But now I have the silk mohair in exactly the right shade -- plus glitter! How can you go wrong with glitter? Next up, I need to find some slightly grippy but pointy needles, and I'll have a new scarfywrapy thing in no time!
posted by Amber @ 6:15 PM

More Rogue
Saturday, January 20, 2007
Thank you everyone for all the nice comments on Janda! I wish Blogger worked like Livejournal, and I could respond to each of you. Alas.

I mentioned the SweaterAMonth KAL I joined - I should also mention that this isn't like Secret Pal or similar things, I'm not going to be black listed if I don't finish a sweater a month (or 12 sweaters in 12 months, since with school I KNOW there's no way I'll knit a whole sweater in say, February, although there's a good chance I'll knit two in July). There isn't a prize if you do 12 sweaters. It's more like a support group for the clearly insane (12 sweaters?! What are we thinking?!).

So, with one down and 11 to go, I present Rogue Sleeves!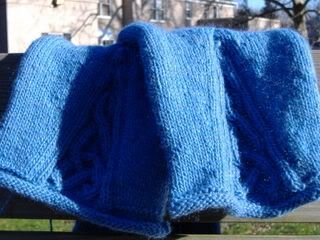 Color accurate AND in focus! A first!

I actually finished the sleeves on Tuesday (as predicted), but yesterday was the first day I was home during the day, so I took them out and posed them on the bench in the courtyard. I think the neighbors think I'm crazy. Since Tuesday, I've done the hem facing and first 13 rows of the body, plus the pocket on the front (which has a very odd construction - not that I've done a pocket before to know "normal" construction - but it seems odd to me). I'd like to get to the point where I join the pocket back to the body by the end of the weekend. We'll see how that goes.
posted by Amber @ 9:21 AM

FO: Janda!
Tuesday, January 16, 2007
Let's see. I started (and finished) knitting this back in September. I finished the seams in November. I wove in the ends this past weekend. yes. It took me months to weave in ends. So much for not another Frankensweater!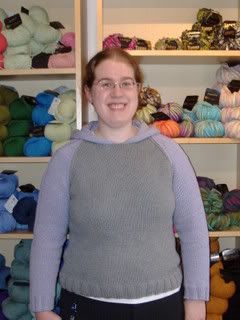 Photo by Jess of Stitch DC. Thanks Jess!

Pattern: Janda by Amy Swenson (Knitty, Spring 2003)
Yarn: Rowan All Seasons Cotton. 6 balls purple, from eBay (seller: brahms123lullaby; I actually got the whole bag for less than $60). 6 balls gray from Stitch DC (during their end of summer Rowan sale!)
Mods: I left off the racing stripes on the sleeves, because it seems I've forgotten how to crochet. But I think the white I picked up would blend in with the light purple. The texture (from columns of purls) is just fine with me. Although, if I did it again, I might include the stripes, but use intarsia instead. Also, I'd start the neck shaping a bit lower, as it sits right on my neck. I'd also make the sleeves a smidge longer (but I'm sure they'll grow over time). The hood is a little pointy, but nothing too atrocious.
Time to knit: About two weeks. Such a quick, satisfying knit!

A few other angles:
Sleeve detail
Hoodie!
posted by Amber @ 6:07 PM

Another New Sweater
Sunday, January 14, 2007
I recently joined a Sweater A Month knit along. I've been starting sweaters like crazy, figuring that starting is the hard part - one I have them going I can easily finish a side of a cardigan or a sleeve or two in a weekend.

The most recent sweater to start is Jenna Wilson's Rogue, in some handspun I got in Baltimore. It's very rustic yarn, the kind of yarn that makes wool-haters say "But wool is scratchy!", so I'm adding more ease than I normally do - almost 3 inches. This way I can wear a long sleeve shirt under it, and not be bothered.

I started on Friday, and spent almost all day yesterday at Judy's watching "House" and working on it. I was almost to the cap shaping, which I then finished up this morning. I can start the second sleeve later tonight, and work on it all day tomorrow, and probably finish it up on Tuesday. The body is in the round, so that should go fairly fast, as long as I pay close attention to the cables, and don't have to tink back rows at a time. Not sure that the whole sweater will be done by Feb 1 (since I do have classes starting). But maybe.

Here's a close up of the cable on the sleeve. It's so hard to take a good photo in the Bat Cave. In person, the yarn is a little less bright blue, and more like a medium sky blue.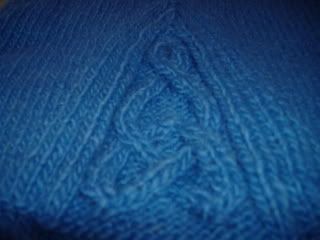 posted by Amber @ 3:39 PM

Patterning is clearly not for me.
Saturday, January 06, 2007
Things I have screwed up beyond repair in the past two days:
Lucy in the Sky Cardigan
Pomatomus

For Lucy in the Sky, I need to use life lines. I keep screwing up the diamond pattern on the wrong side, because apparently I can't count.

For Pomatomus, I made it to repeat #2, and then promptly stopped doing the decreases. I had very flared socks.

I'll be in the corner with some sockinette now.
posted by Amber @ 7:05 PM

FOs galore! Goals! Pointless prattle!
Monday, January 01, 2007
I cannot take a good photo to save my life lately. But I have three new FOs to share anyway:

Yarrow Rib Hat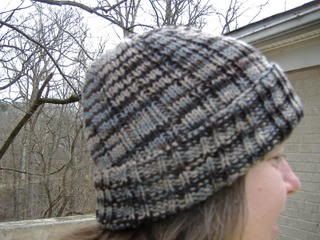 Yarn: ArtYarns Supermerino, color #144<
Pattern: Yarrow Rib from Knitting Vintage Socks by Nancy Bush. I cast on 102 stitches, worked it straight for about 9 inches, then decreased along six points. Mom seems to like it.

Chic Knits Felted Bucket Hat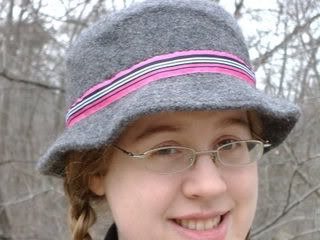 Pattern: Felted Bucket Hat by Bonne Marie Burns (such great patterns!)
Yarn: Paton's Classic Merino, one skein, and some change from a second.

Yes, it's a different color from the first one. The sides of the first one felted together in the washing machine. I tried to hand felt #2, but after 40 minutes of swishing I tossed it in the washer with a dishrag strategically pinned inside. Worked much better than hand felting. My mom sewed the ribbon around the edge for me.

Amber's Amazing Glottens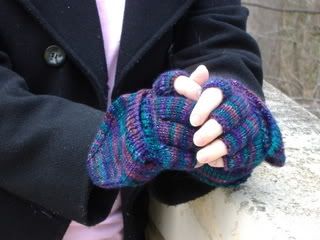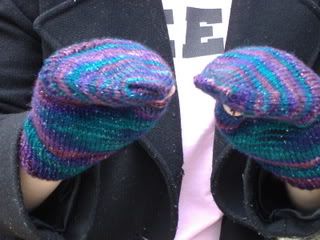 Yarn: Cherry Tree Hill Super Glitz
Pattern: My own! [Coming soon]
Finished just before Giftmas. The caps are a little different (one is grafted shut, one is done with three needle bind off because I left my book with directions for grafting at home). I like both equally. They're very warm and comfortable. I took them to a yarn shop near my mom's house over break, and there was much fawning.



- - -



As for the knit goals from December:
Finish SuperSecret (a must, in time for Giftmas!) - Not done. Gave my mom a different sweater that I knit, but never wore (a little on the big side). In the process of frogging SuperSecret Marriah.

Seam something (Durrow, Cabled Hoodie) - Not done. I should give it up.

Finish one pair of socks - Not done. But at least I started a second sock

Do sleeves on Sort of Samus - DONE! Amazing, I know. I started Friday, and finished Sunday, with 3 hours to spare.

Freely succumb to Startitis after finals - Done! I started: Felted Bucket Hat (Done), Yarrow Hat (Done), Argosy (Frogged), Glottens (Done), Lucy In the Sky Cardi (IPG), Mountain Stream Scarf (Frogged)

Reorganize baskets and yarn closet - Not done. The yarn tried to attack my mom last night. Must knit faster

Next month, I will...
Start Lots of Sweaters! Especially Blue Montdale handspun from Baltimore. I'm thinking pull over with a little kangeroo pouch-pocket.
Start at least two projects with the one-off balls of yarn in the closet (socks, hats, mittens, something...)

Should be easy enough... right.
posted by Amber @ 2:39 PM