May Knit Goals!
I'm prone to being a scatterbrain, so I try to make a short list of things to accomplish each month (lest I have 27 different non matching socks).
No throwing books during finals - Sucess!
Finish Yarrow Rib #2
Start (finish?) Entrelac Socks
Start Eunny's Vest, Ribbi Cardi #2
Work on Dumb Scarf
On the Sticks
K1, YO, K2Tog Scarf
Yarrow Ribbed Sock
Rogue
Raglan with lace panel sleeves
Ribbi Cardi #2 (black/purple)
Sweater-A-Month 2007
Picovoli: Cathay - Needs blocking
Cabled Hoodie: Cascade 220 - Needs seams
Urban Aran
Durrow - Done!
KnitPicks' Kimono Sweater: Silky Wool
[Sort of] Samus: Chester Farms 2-ply worsted - Some seaming and a whole lot of i-cord left
Ruffli Cardi
Top Down Raglan: Nashua Creative Focus Worsted - Needs blocked
Tricot: Ella Rae Classic (?)
Janda: Rowan All Seasons Cotton (gray/lavender/white) - Done!
Tubesque: Noro Garden + ???
Springfield (Cabley Twisty Rib Raglan): Cotton Plus
CeCe: ??
Lucy in the Sky: Shelridge Farms W4 (pink lemonade)
Rogue: Handspun
Shawl Collar Cardigan: Kathmandu Aran Tweed - Done!
Elizabeth Zimmermann's Bog Jacket
Ribbi Cardi: Cotton Ease (Black/Purple)
Ribbi Cardi: Cotton Ease (Blue/White)
Simple Knitted Bodice: Silky Wool?
Be a joiner!
An Unused Box!
Something should go here.
Sunday, January 29, 2006
I built a futon this weekend. It's nifty, except that the matress slides down when you try to sit on it while it's in the couch position. It's also about 6 inches longer than my old couch and is much better for sleeping on.

This weekend my mom also brougt me my grandma's yarn ball-winder. It's now in it's third generation of Noel Knitter Ownership.

Featured here with some Knitpicks Shimmer, in stained glass colorway (pretty true to life on my monitor):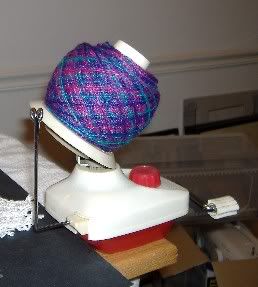 And after quite a bit of finishing old projects for the last week or so, I decided to cast on for a new project: Knitty's BroadStreet Convertable Mitten-Gloves: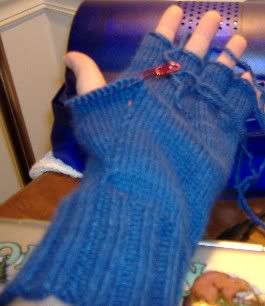 Started Thursday night, got to this point Saturday afternoon (not quite finished, as there's no thumb or mitten shell)

I decided on the convertible mittens because my SAS programming class is held in a really, really cold room, and it would be nifty to be ablt to type while wearing mittens. I swatched some KnitPicks Ambrosia (80% cashmere, 20% baby alpaca, 100% buttery soft) on size 3 needles - DPNs even, since my flat and circuluar gauge is different - and got the right gauge (it seemed...).

All the way through, as I tried them on, they seemed just a little big. I kept thinking it was just the way it was on the needles and it would be fine when I finished them up. Not to much it turns out: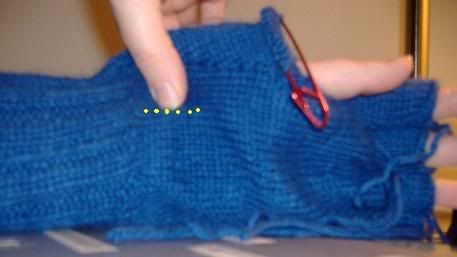 See that yellow dotted line? That's where my wrist is. At any given point on these gloves there's about an inch of extra fabric.

I think I'm going to try mitten #2 on size 2 needles, and see if that helps (and stop if it's not helping by the time I finish the thumb gusset, no fingers for gloves that don't fit this time!). If it helps I can frog the first one and reknit. I'd knit a second one on size 3 needles, except that the fingers fit perfectly, so someone with bigger hands would fill out the palm part, but they'd have little tiny knit tourniquettes on their fingers, and that's not good.
posted by Amber @ 10:03 AM

FO - Two Color Raglan
Tuesday, January 24, 2006
So I'm on this kick to finish things. Seam sweaters. Finish secon mittens. And so on. Since I don't have anything in a pick up and go place right now (for the manly lace scarf I need to review the pattern, I forgot which decreases to use, for Tubey I need to pick up stitches across the back, and cast on for the front, and that will involve evenly distributing stitches as I pick up, and math is hard).

So today I seamed the two color raglan that was kinda sorta of my own design (I used the handy book of sweater patterns with shoulder decreases influenced by Baseball from Knitty. You may remember this sweater was last seen lounging on my dining room table, as another installment of Frankensweater.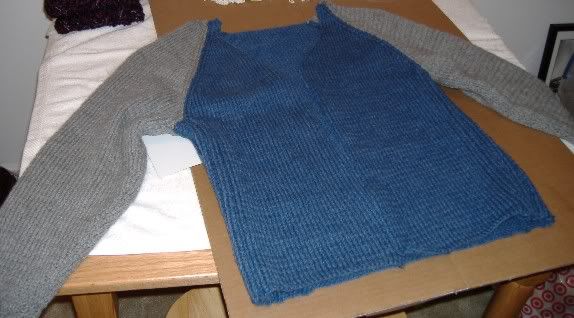 The last time I looked at this sweater I thought it was so well done (at least, in even stitches and seemingly reasonable length) that I didn't want to seam it until I worked on my seaming technique. In the meantime I bought "The Knitter's Book of Finishing Techniques" (by Nancy Weismann), and I practiced seaming the Panty Sleeve Sweater (that blue from last week) and my to-be-felted bag (not felted yet, pre & post pictures after I finish that), and I'm really happy with how the seams turned out. I mean, I'm sure there are people out there seaming better and I'll think these seams suck in a few years when I'm better at it, but until then, I think my seams rock.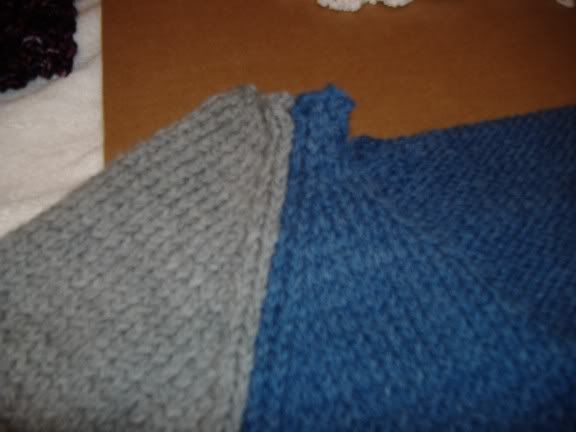 However, I think I need to add some ICord around the edge, just to give it a more polished look.

It's made with Paton's Classic Merino (which I understand felts if it thinks water may be nearby), using about 4 balls of blue and 3 balls of gray (actually, like 2.25 gray, just enough that I had to buy more, but have most of a skein left).

It isn't particularly noticable in the pictures, but there's ribbing on the sides, from hem to arm, which in theory makes it more fitted without having to actually do waist shaping. In other sweaters this might work. It didn't work here. But it doesn't look bad, just not what I'd hoped for (and in actual patterns, the amount of ribbing on the sides is probably specified better than winging it, based on what the pattern in the book that I was sort of following looked like). Other things that weren't what I'd hoped for, the shoulder width. I've got pretty average shoulders, and this sweater just doesn't sit right on them. *BUT* I think it will fit my mom perfectly, and she won't be able to haggle me about not knitting her anything, since she'll have a finished (wearable) sweater before me.

Next, either the second brown fingerless mitten, or picking up stitches on the back for Tubey. Tomorrow. Now, sleep.
posted by Amber @ 10:10 AM

I can knit! Purl even!
Saturday, January 21, 2006
Based on the state of this scarf, I'm beginning to wonder if I actually know the difference between a knit and a purl stitch. Maybe I can claim it's like a little puzzle, you know, one four of these sections is are not like the others! When you're bored in class, try to find them!

I'm trying to decide on a next project. Socks or gloves, socks or gloves. I have the yarn for both... (Or another multidirectional scarf? I'm really loving this one, which I have half the yarn for.)
posted by Amber @ 10:18 AM

Tuesday, January 17, 2006
Test.
posted by Amber @ 11:54 AM

Most Boring Scarf Ever
Monday, January 16, 2006
In a knitting round up post a while back, I joked about the scarf my mom wanted me to knit for a friend of hers... it was about 25% done at the time and I said it would be funny if I ever finished it ...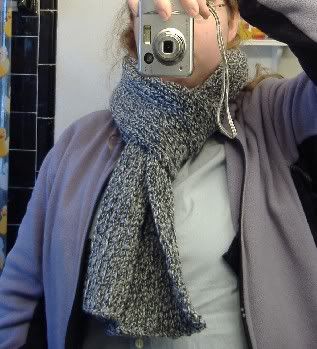 It is, as the file name suggests, the most boring scarf ever. Although it is done.

Just under 2 skeins "Denim Style" (70% acrylic, 30% cotton) in Indigo. 2x2 ribbed until I ran out of yarn. I'm considering making a matching "Most Boring Hat Ever" except I'd have to go buy more yarn for it, which sort of defeats the stashbusting idea, although I feel it needs a hat to be complete.
posted by Amber @ 10:20 AM

FO - Panty Sleeve Sweater (Vogue Knitting, #5, Summer 2005)
Wednesday, January 11, 2006
A while back I got my first Vogue knitting (Spring/Summer 2005) in the mail, and as a brand new knitter (this would have been...May? June?) and I wanted to make a sweater. Sweaters are cool, and I'd crocheted so many things that surely I could knit a sweater, I mean, I didn't need to make a bunch of knit scarves and dumb square hats.

So I picked a sweater I liked (#5). I made a gauge swatch and it was mostly the same as the pattern's gauge. And I took off with my knitting. I didn't even have to buy yarn! Many years ago I convinced my mom to buy 10 balls of Paton's Carolina (now discontinued) to make me a sweater (hey, the sweater pattern is on ebay!), but she didn't get around to it and the yarn showed up in my apartment. Perfect! The yarn worked, and I liked the yarn, because I'd picked it out myself. Yay! Let's get knitting.

Well, first thing I did was make the sleeves because sleeves are small, and not intimidating! You remember the sleeves, back in June(! June, late June it turns out), the ones that could have also been some panties.

Well, eventually I knit the rest of it. Then a while later I did some light blocking. And today, today I seamed the first sweater I knit.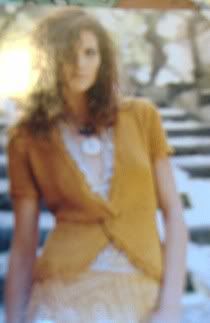 Here's a crappy photo from the magazine. But you get the idea.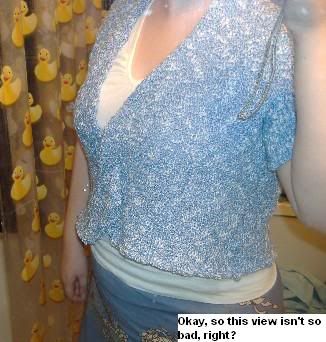 So I didn't add the crochet edging. But this view looks okay, right?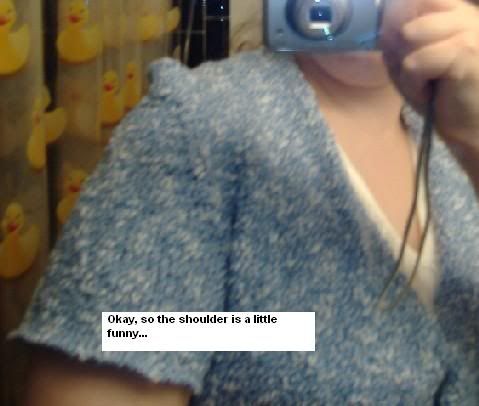 So the seams are a little wonky. I can take a class and learn to fix that, right?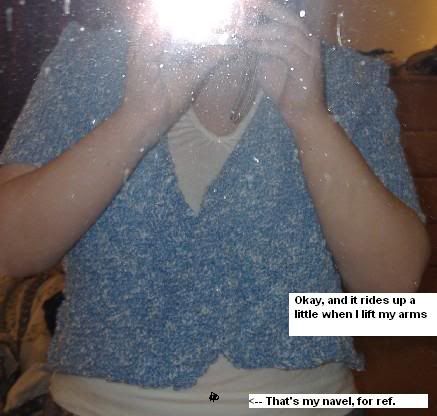 And maybe it sits a little high...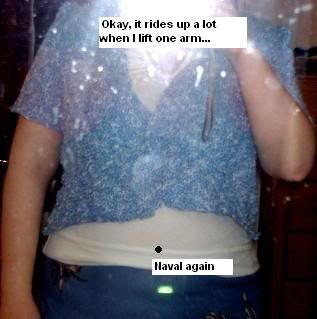 Eesh. Actually, it sits unnaturally high. You noted the placement of my navel there in the last two pictures, right? About two inches below the edge of the shirt? Yeah... And the twist in the front, sitting practically between my breasts...


So, in retrospect:
It isn't a bad pattern. Not a great knitter making it, but that's not the pattern's fault. Other things that aren't the pattern's fault, the wearer's chest size. Needs some short rows in the front to have better drape.

Things that are the pattern's fault: the waist. I followed the pattern to a T. Were I to do it again, I'd make it a few inches longer. Maybe 6 inches between waist and hips is enough on that model, but on me (::elevator music while I find a tape measure::) I think I'd need closer to 8 inches.

Another thing that most definetly is not the pattern's fault: the yarn I used. Carolina is the now discontinued 100% acrylic boulce-like yarn Paton's made a long time ago. It's kind of like homespun in looks, except much, much, much thinner. And of course, being two colors (this is the yarn I was working with when the dumbass in my math class asked me if my sweater was going to be blue when I finished it). The yarn the pattern recommended was Karabella Empire Silk -- out of my price range when I was still paying the full amount on my student loans. Silk would have a much better drape, and also be slightly fixable with blocking.

In the end: I'll never wear this sweater out of the house (well, I suppose putting myself in it on the internet is out of the house, but you know what I mean). But some time in the future, I might make it again. With different yarn, lengthening the waist, finding a way to add some short rows in the bust, and changing the shoulders (I hate stepped shoulders. There are better ways!)
posted by Amber @ 10:22 AM

Tubey Sleeves
Sunday, January 08, 2006
Okay, be honest -- shrugs (sweaters sans body, just the sleeves) -- are they really out? Because I'm loving my Tubey sleeves, and kinda want to make another set (or a similar set) to wear over tanks/super short sleeve shirts at work (I have big upper arms, so I don't like wearing sleeveless/super short sleeve things, but I find a number of them that have super cute bodies).

Anyway, I finished Tubey sleeves today. Now I'm need to pick up for the body, and then knit the body. Then, all done! I love this sweater!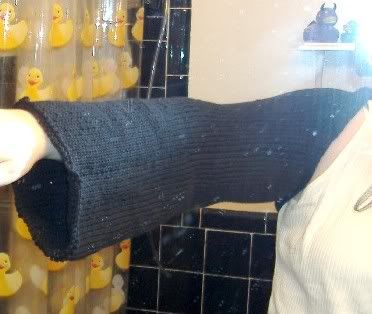 A close up of the sleeve.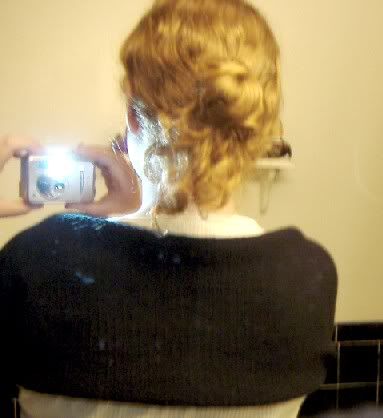 The upper back (it's so hard to photograph black...)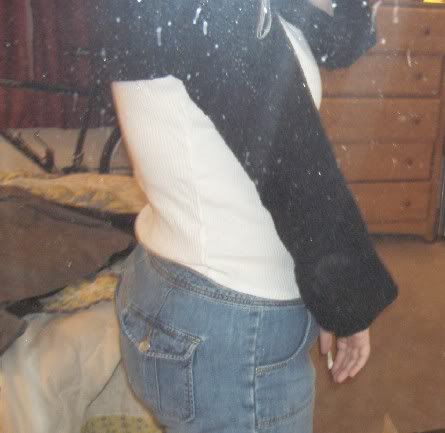 Side view of the sleeve and the upper back. Also, I should clean my bedroom mirror (it's on the back of the door, and I never look at that mirror, since the door is always open).
posted by Amber @ 10:32 AM

More yarn!
Saturday, January 07, 2006
Wow! Betsy and Jackie also got me a Stitch DC gift card! And just after I convince myself to finish projects before buying new yarn until I clear out a shelf in the yarn closet.

So I'm probably going to get yarn for at least one pair of socks (I think my first sock failure was due to two things: not being comfortable with DPNs, and using yarn I didn't like very much), and also some noro for this great hat. And maybe some yarn for the newsboy hat I keep wanting to make...
posted by Amber @ 10:36 AM

The Gift of Warm Hands
Monday, January 02, 2006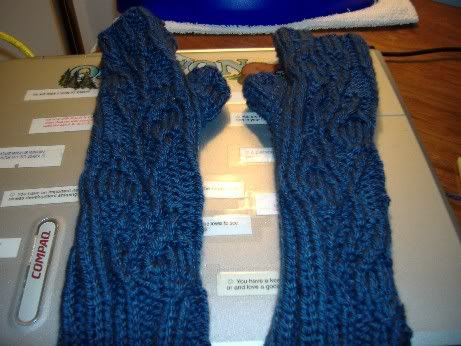 Both of them - finished and with all ends woven in!





Just the left one.

The pattern is Hurry Up Spring Armwarmers, by Renee Rigdon, in Stitch n Bitch Nation

The yarn is Rowan Cashsoft Aran, in Tornado (dreamy yarn to work with - and superwash, no less). It's still a wee smaller gauge than the called for yarn - Noro Kureyon; but my friend who will be getting these armwarmers soon says she doesn't like scratchy yarns (boardering on allergy, which I think stems from her mom always knitting with handspun yarns, which I always find a lot scratchier than almost all other yarns). If I were to do them again, I might try Silk Thaw, which has the same gauge as Kureyon, but with 25% silk it feels a lot nicer in the store.

I really like these armwarmers, but I think I'll take a break before making another pair. More specifically, I like the length and the ribbing, the cable pattern I'm indifferent about. Someone over at knitting_snark made some nifty ones with picots, and I think that would be a cute accent arount the the thumb and edges.

Okay, off to pack the bag for knitting tonight. I have about three more weeks until my spring classes start - Mondays. I need to get together with this one lady at work - we talk about staring a knitting group, but keep getting distracted (site visits) - and act on starting the group.
posted by Amber @ 10:37 AM