May Knit Goals!
I'm prone to being a scatterbrain, so I try to make a short list of things to accomplish each month (lest I have 27 different non matching socks).
No throwing books during finals - Sucess!
Finish Yarrow Rib #2
Start (finish?) Entrelac Socks
Start Eunny's Vest, Ribbi Cardi #2
Work on Dumb Scarf
On the Sticks
K1, YO, K2Tog Scarf
Yarrow Ribbed Sock
Rogue
Raglan with lace panel sleeves
Ribbi Cardi #2 (black/purple)
Sweater-A-Month 2007
Picovoli: Cathay - Needs blocking
Cabled Hoodie: Cascade 220 - Needs seams
Urban Aran
Durrow - Done!
KnitPicks' Kimono Sweater: Silky Wool
[Sort of] Samus: Chester Farms 2-ply worsted - Some seaming and a whole lot of i-cord left
Ruffli Cardi
Top Down Raglan: Nashua Creative Focus Worsted - Needs blocked
Tricot: Ella Rae Classic (?)
Janda: Rowan All Seasons Cotton (gray/lavender/white) - Done!
Tubesque: Noro Garden + ???
Springfield (Cabley Twisty Rib Raglan): Cotton Plus
CeCe: ??
Lucy in the Sky: Shelridge Farms W4 (pink lemonade)
Rogue: Handspun
Shawl Collar Cardigan: Kathmandu Aran Tweed - Done!
Elizabeth Zimmermann's Bog Jacket
Ribbi Cardi: Cotton Ease (Black/Purple)
Ribbi Cardi: Cotton Ease (Blue/White)
Simple Knitted Bodice: Silky Wool?
Be a joiner!
An Unused Box!
Something should go here.
I *heart* long weekends
Sunday, November 26, 2006
SuperSecret had to be put on hold for the weekend - since my mom was visiting I didn't want her to get a sneak peak. Although there was a brief "Close your eyes! Keep them closed!" moment, since I wanted to make sure it was on track to fit correctly.

So instead of working on SuperSecret, I started my [Sort of] Samus. Sort of because the gauge is very different, and so I'm making some changes to size, and arm shape - I figured if I was redoing the math in other places, why not redo the math for raglan sleeves instead of set in, since I prefer raglans. I also changed the sleeve detail and worked it with a provisional cast on, and then grafted the edges together to make a seamless sleeve. It isn't quite the look I was expecting, but if I'd thought for a minute before grafting I'd have known that. It's still a perfectly lovely edge.





The yarn is Chester Farms 2-ply worsted, in heathered purple. I'm loving how squishy it is, and how nice and firm the finished material is. And who knew sinusitis could be beneficial? Amber mentioned she didn't enjoy working with the yarn because it has a distinctive barnyard-y smell, but I haven't been able to smell anything for weeks, so it isn't bothering me (I do recall the smell when I bought it, so I'm sure my yarn smells funny too). The vegetable matter (bits of straw) are a little bothersome, but that's mostly my compulsive tendency to pick at things.

Of course, now SortOfSamus goes back into the closet, so I can finish up Super Secret. Samus probably won't see the light of day again until after finals, and probably close to Giftmas.

In other news, I unraveled my lace-panel sleeved sweater. I'm not sure it ever even had a picture taken to prove I started. But I didn't like how the neck turned out -- too high and narrow. Next time it will have a much wider and deeper V-neck.
posted by Amber @ 6:01 PM

SuperSecret!
Thursday, November 16, 2006
I'm a dull blogger when I'm working on secret surprise projects...
posted by Amber @ 10:12 PM

Stash: Busted, or, the One-Skein, One-Night FO!
Thursday, November 09, 2006
Hey! No cold dead eyes!



The yarn: A thick 'n' thin homespun, a gift from my friend Abby (with bonus 2290 square feet of rainforest saved! Visit: therainforestsite.com for your own slubby, rainforest saving yarn!)
The pattern: Just One More Row's Scallop Brim Instant Hat
The needles: US 11, 16 inch, bamboo circulars
The notes: Oy! My hands hurt! I never realized how hard it was to work with the slubby wool. The fit isn't great - but the wool is pretty scratchy, so I was going to add a liner anyway. Hopefully it will soften up in the wash, and some blocking will make the scallops come out more (no actual work was used to create the scallop brim-- the basis of the hat is stockinette, and the texture of the yarn is what pulls it into the pattern). But in all - a great way to use that one really awesome skein of handspun that you don't know what else to do with.

I lied, there's one cold, dead eyed photo (isn't there always in my bathroom photo shoots? ...and...
No really, does my head look like a mushroom? (my face clearly gives away the fact that I think my head looks like a mushroom)
posted by Amber @ 8:29 PM

Stitches East: Recap
Sunday, November 05, 2006
I drove up with some people from work (Baltimore is so much closer when you leave at 10 AM and someone else is driving!) First, I stopped at the Blue Moon/Socks that Rock Booth, where the lines were not insane (however, it was pretty picked over). I picked up one skein in "Tanzanite"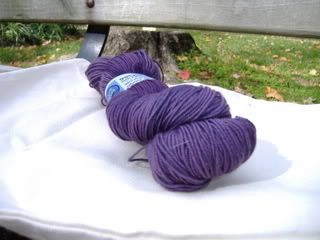 Then Judy, Amber, and I went to lunch across the street (California Tortilla, I think it was). Very tasty. Always good to have some protein in your system before being let loose near fiber.

I did a lot of looking, and not a lot of buying. The reasons were many fold: First, I didn't have much money (one of my coworkers and I made a pact to keep each other in line, I started with a self imposed $50 limit, she went with $100). A second reason, I've discovered I hate alpaca, which is everyone's favorite blend. It makes me itch! A third reason, I have enough sweaters in the queue as it is. A fourth reason: I'm not a fan of variegated yarn for anything but socks, and maybe hats. Certainly not for sweaters, and I like making sweaters the most.

There were a few things I couldn't pass up: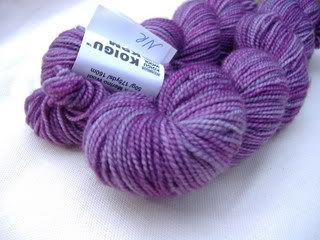 Koigu, via Rosie's yarn cellar. I waited until we got to the last row, and couldn't resist any longer. It was funny - originally I'd said if I got Koigu it was only going to be solid. So much for that. One of the women showed me how to do my hair in a really neat way, too.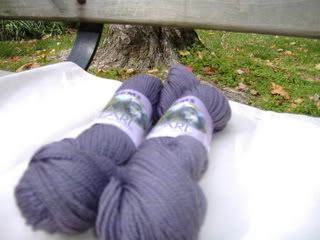 Gems Pearl via Mangham Wool & Mohair Farm of Charlottesville VA (www.wool.us) They teased me a bit for wearing a purple t-shirt, a purple sweatshirt, and buying purple yarn.



Shelrige Farms W4 in Pink Lemonade (5 skeins). I almost bought more in Wisteria, but resisted (since part of my Ribbi Cardi is Wisteria colored). I'm planning on turning this into ChicKnits.com's CeCe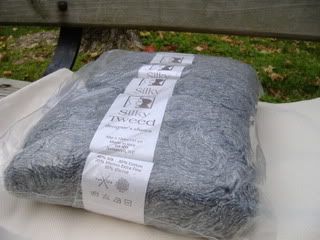 Elesabeth Lavold Silky Tweed (10 skeins) in silver/gray, via Webs. My one weak impulse. Sure, I could order it online (I even know some local stores that sell it, but it was only $4.50 per ball! $4.50! That's practically half price!

So in the end, I spent something like $150. Sure, three times my planned budget, but considering I'd planned to buy a $75 kit at Shelridge, I knew the $50 was a little futile. And I didn't get the kit, instead I picked up the W4 for CeCe ($50). The $47 in Silky Tweed was an impulse, and the $60 in sock yarn was pretty much what I'd planned on getting. So I'm not feeling like I spent too much, or bought more than I could knit in a year.

(Also, my winter interweave came yesterday! Review coming after weight lifting)
posted by Amber @ 1:43 PM

On being goal oriented...
Thursday, November 02, 2006
October Goals: Revisited
Finish Ribbi Cardi (I'm over 1/4 of the way already!) - Done! I mean, no seams or zipper yet, but the knitting (well, knitting sans collar) is done.
Finish Yarrow Rib Socks - Not done - I'm about 10 rows out from finishing the toe
Start Travelers Socks for Knitting on the Road KAL - Not done - I started Falling Leaves instead
Only start one new sweater (I'm thinking Sort of Samus) - Not done - I started the Lace Inset on Sleeve Raglan (and made it partway through the yoke). Then I started what I'm tentatively naming Springfield - a raglan in the round with interchanging cables - ala the Springfield Interchange. I'm silly that way. I'm also about 1/2 done with the torso.
Seam something (Durrow, Cabled Hoodie) - Not done. This is why the two sweaters I've started are both raglans in the round!
Get an A on probability midterm - TBD - the professor hasn't handed the exams back yet

Not a good month for goal-based knitting it seems.

November Goals:
Finish Falling Leaves (pair).
Finish first and start on second Yarrow Rib. No promises about finishing.
Finish Springfield.
Finish k1/yo/k2tog scarf.
Get through half of SooperSekrit holiday knitting.
Seam RibbiCardi and take to tailor for the zipper.
List some cotton on a destash website.


Also, one of my coworkers convinced me to go to Stitches since she's driving. Must make a plan that involves spending less than $50. Amber, Judy - want to meet up somewhere on Saturday?
posted by Amber @ 10:41 AM