May Knit Goals!
I'm prone to being a scatterbrain, so I try to make a short list of things to accomplish each month (lest I have 27 different non matching socks).
No throwing books during finals - Sucess!
Finish Yarrow Rib #2
Start (finish?) Entrelac Socks
Start Eunny's Vest, Ribbi Cardi #2
Work on Dumb Scarf
On the Sticks
K1, YO, K2Tog Scarf
Yarrow Ribbed Sock
Rogue
Raglan with lace panel sleeves
Ribbi Cardi #2 (black/purple)
Sweater-A-Month 2007
Picovoli: Cathay - Needs blocking
Cabled Hoodie: Cascade 220 - Needs seams
Urban Aran
Durrow - Done!
KnitPicks' Kimono Sweater: Silky Wool
[Sort of] Samus: Chester Farms 2-ply worsted - Some seaming and a whole lot of i-cord left
Ruffli Cardi
Top Down Raglan: Nashua Creative Focus Worsted - Needs blocked
Tricot: Ella Rae Classic (?)
Janda: Rowan All Seasons Cotton (gray/lavender/white) - Done!
Tubesque: Noro Garden + ???
Springfield (Cabley Twisty Rib Raglan): Cotton Plus
CeCe: ??
Lucy in the Sky: Shelridge Farms W4 (pink lemonade)
Rogue: Handspun
Shawl Collar Cardigan: Kathmandu Aran Tweed - Done!
Elizabeth Zimmermann's Bog Jacket
Ribbi Cardi: Cotton Ease (Black/Purple)
Ribbi Cardi: Cotton Ease (Blue/White)
Simple Knitted Bodice: Silky Wool?
Be a joiner!
An Unused Box!
Something should go here.
Ideas?
Saturday, October 28, 2006
Blogger/blogspot is a wee bit crazy -- I only get comments from Amber emailed to me. For everyone else, I have to go, look at the webpage, see if there was a comment -- but then I have no way to reply. Anyone know why that is, or how I could fix it?
posted by Amber @ 12:58 PM

Look what came in the mail today!
Tuesday, October 24, 2006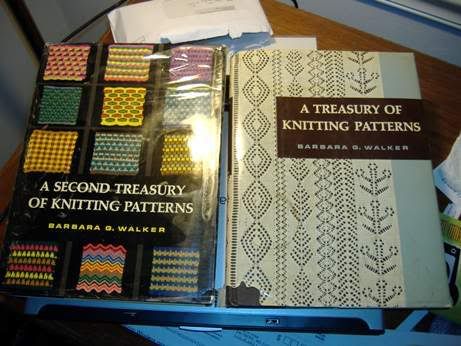 I mentioned to my mom that I'd love to have them (hinting at Christmas presents), and she says "Oh, Grandma had those. Two of them are downstairs, and the others are probably in a box in the attic. I'll send them to you."

So much to knit!

(Oh, and being used as bookmarks: Elizabeth Zimmermann newsletters.)
posted by Amber @ 7:54 PM

The Decisions! Or: Ramblings when I'm not ready for bed.
Wednesday, October 18, 2006
So I have to drop some stuff off on campus tomorrow afternoon, and since I'll already be there, why not visit Sweet Life Knitters? (they meet at Starbucks, in an effort to confuse people) But that means I have to figure out a project to take with me:

Falling Leaves. Finish that sock! It is Socktoberfest, afterall, and you're dangerously close to not making any socks.

Top down blue pullover. Share the joy of the shedding alpaca!

Start Shedir. Christmas knitting isn't going to knit itself.
Start John's hat. See above.
Swatch for Mom's SooperSecrit present.

Start the lace sleeve sweater (ala KatieKnits. Live dangerously - don't swatch. It's top down!

Stay home and seam! Anything!

Bring everything and make swatches: SooperSecrit, Lace Inset, swatches for overdying...

(Also, I just got home from class. I'm too awake to go right to bed, but too tired to make my hands work. Plus, if I turn on the TV, I'll get sucked in, and I have to go to work tomorrow.)
posted by Amber @ 11:17 PM

Other People Have the Best Ideas
Check out this nifty adaptation of Tubey.

I really like the idea of using two colors, although I've heard mixed reports on the Malabrigo (some say: Pills like crazy, prepare to only wear it once. Others say: Awesomest stuff ever...knit tightly). (Of course, it would be possible to knit it in two colors without Malabrigo, but in a way, I'm curious what all the fuss is about). I could also just do it in one color, but the fake layers are kinda fun. I think I'd make the whole sleeve the shrug color, rather than 'shrug over shirt' style. I was also thinking that this could be a fun way to use the patterns for tube tops and tank tops that Interweave Knits publishes (that I don't make because I don't wear tube/tank tops).

Also: guess what's dry!
posted by Amber @ 11:03 AM

Somewhere ... beyond the pins
Saturday, October 14, 2006



Finished knitting Ribbi Cardi this afternoon. Just finished pinning it out on the table! Now, to find a two way zipper in the size I need.

Yay! A new set of bits for frankensweater box!
posted by Amber @ 9:54 PM

Enablers!
Friday, October 13, 2006
Stitch DC is having a sale this weekend. To paraphrase my grandfather: I *need* more yarn like I *need* a hole in my head.

Not that it's going to stop me, mind you. But I'm trying to form a plan of attack.

I'm taking my mom with me, so she can pick out a color for her soopersecrit Giftmas present. (Which I'll need to start knitting ASAP if I want to finish in December...) I was thinking of guiding her towards Mission Falls 1824 wool, but my calculations tell me I'd need 24 balls of yarn for it. Even at 15% off, do I love her that much? I'd need 22 balls of Rowan CashSoft, and 10 balls of something with 220 yards (Shelridge Farms?)

I'd like to make Serrano - maybe in Aurora 4? (I'd need 9 balls).

There's katieknits' cashcotton sweater I continue to be in lust with. I saw some Elesabeth Lavold Angora the other day that was just dreamy. I had been thinking of doing it in Elann's Highland Silk ($4/ball! $4!) so the Elann would be cheaper no matter what I bought at Stitch DC (which, well, almost always true).

Decisions decisions!
posted by Amber @ 10:23 AM

Oops!
Thursday, October 12, 2006
Many moons ago when Stitch DC first got their order of Lorna's Laces in, I went and bought two skeins of Black Purl, Sherbert and Iris Garden. They're tucked away safely in the yarn closet of doom (well, one sherbert is sitting on the bookshelf being pretty).

Last week I was mad at someone for something at work (I think because I was going to have to work with this guy who told his boss he did some work that I had done for him. He's dumb and unethical - and now we have to work together again) and so I went to buy some yarn... and got two more skeins of Iris Garden, completely forgetting I already had some!

The new Iris Garden is in progress becoming some Falling Leaves - I worked on the toe yesterday before class. Alas, Stitch DC was out Addi Size 0 (00) circs, so I'm doing them on Crystal Palace DPNS, which are smooth, but those K3togs/SSSPs in the short rows were a real pain - I was sure I was going to snap the needle!


Also, while looking at bloglines today I saw that two people have me on their bloglines feeds. One of them is me, and the other is "Mads78" If you're out there...what's your blog address? I want to add you back!*

*Oh dear...when did I become a 14 year old myspace user who is concerned about adding back?!
posted by Amber @ 1:38 PM

Monday, October 02, 2006
September Goals:
Finish the Cabled Hoodie - Finished knitting. Not so much with seams yet
Finish Nashua sweater - No, but I did show it off
Do sleeves for SKB-Knock Off - No.
Reswatch All Season's Cotton on size 6 needle, be obsessive about math, and start Janda sweater. - No reswatching or obsessing about math, but I did start and finish the Janda sweater - including seams! I have some ends to weave in still, but hey, within 24 hours I will have a new, wearable sweater!

This October, I will:
Finish Ribbi Cardi (I'm over 1/4 of the way already!)
Finish Yarrow Rib Socks
Start Travelers Socks for Knitting on the Road KAL
Only start one new sweater (I'm thinking Sort of Samus)
Seam something (Durrow, Cabled Hoodie)
Get an A on probability midterm
posted by Amber @ 10:54 AM