May Knit Goals!
I'm prone to being a scatterbrain, so I try to make a short list of things to accomplish each month (lest I have 27 different non matching socks).
No throwing books during finals - Sucess!
Finish Yarrow Rib #2
Start (finish?) Entrelac Socks
Start Eunny's Vest, Ribbi Cardi #2
Work on Dumb Scarf
On the Sticks
K1, YO, K2Tog Scarf
Yarrow Ribbed Sock
Rogue
Raglan with lace panel sleeves
Ribbi Cardi #2 (black/purple)
Sweater-A-Month 2007
Picovoli: Cathay - Needs blocking
Cabled Hoodie: Cascade 220 - Needs seams
Urban Aran
Durrow - Done!
KnitPicks' Kimono Sweater: Silky Wool
[Sort of] Samus: Chester Farms 2-ply worsted - Some seaming and a whole lot of i-cord left
Ruffli Cardi
Top Down Raglan: Nashua Creative Focus Worsted - Needs blocked
Tricot: Ella Rae Classic (?)
Janda: Rowan All Seasons Cotton (gray/lavender/white) - Done!
Tubesque: Noro Garden + ???
Springfield (Cabley Twisty Rib Raglan): Cotton Plus
CeCe: ??
Lucy in the Sky: Shelridge Farms W4 (pink lemonade)
Rogue: Handspun
Shawl Collar Cardigan: Kathmandu Aran Tweed - Done!
Elizabeth Zimmermann's Bog Jacket
Ribbi Cardi: Cotton Ease (Black/Purple)
Ribbi Cardi: Cotton Ease (Blue/White)
Simple Knitted Bodice: Silky Wool?
Be a joiner!
An Unused Box!
Something should go here.
How crafty!
Wednesday, September 27, 2006
Check out this supercute sweater in the making

I wish I could be that creative. I know I have a million sweaters in the works/plans, but it doesn't stop me from pondering new creative cute things to do to spice up a sweater. But I can never come up with my own ideas. I see something like this (or like Ribbi Cardi, or Simple Knitted Bodice, or whatever) and I can totally visualize how to do it without a pattern, but I can't come up with nifty ideas without seeing them first.
posted by Amber @ 4:15 PM

Wee Weekend Stashbuster
Saturday, September 23, 2006
I've been all itchy about starting a new project, even though I still have three sweaters to seam (Janda, Cabled Hoodie, Durrow), a sweater to finish (top down raglan), a sock (yarrow rib). But still, I was itchy to start something new. I swatched for a pair of gloves with some Scarlet Fleece. But that didn't strike me. My hand just weren't working well enough to start Tamarah. So finally I decided to pull out some Noro Silk Garden and make a hat.

Several months ago while trying to find a bucket hat that wasn't the ChicKnits one, I found this pattern with a mod to make it more bucket-y (here). I've been wanting to make it, and had some Silk Garden that I picked up in NYC (two trips back).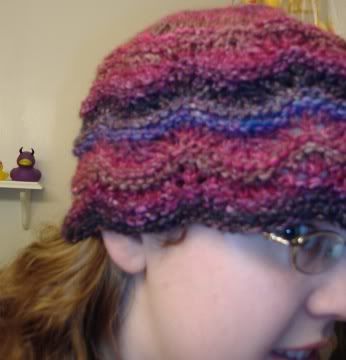 Hey! I got a picture without looking like I have cold, dead eyes

I love how it happened to come together at the crown


The crown shaping is great, I just particularly love how the stripes worked out right, how they all came together.

The specs:
Yarn: Noro Silk Garden (205), about 1.33 balls
Needles: Size 7
Time: One afternoon/evening
Fun factor: 10 - easy to memorize the lace repeat but enough to keep it interesting

I did manage to get one cold, dead eye-ed photo
posted by Amber @ 10:54 PM

Not going into frankensweater basket!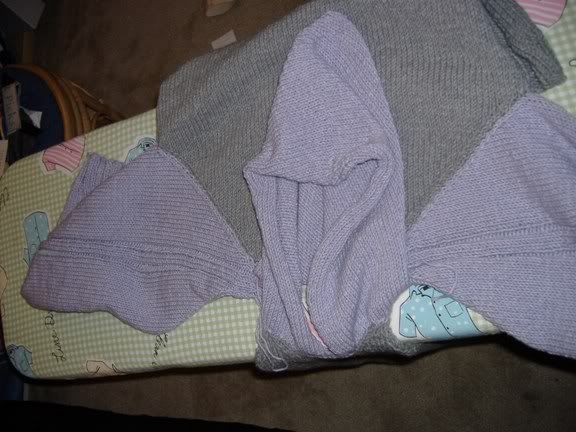 Shoulder seams: 2 done, 2 to go.
Sleeve seams: 2 of 2 to go.
Side seams: 2 of 2 to go.
posted by Amber @ 1:07 AM

New project ... almost
Tuesday, September 19, 2006
I ordered some knitpicks needles the other day and they came today... but I can't start knitting! I came home from class early because I was falling asleep and everything the professor said related back to Baltimore. Power functions? Each observer is or isn't going. Union vs. intersection - co observations. In all, no focus. And I hurt my neck when I snapped back to awake suddenly, and pulled my head back too fast.

So lace kniting is sort of out. Actually, all knitting is out in favor of flopping out on the couch.
posted by Amber @ 7:17 PM

Fall 2006 Knitty Review
Monday, September 11, 2006
Viveka - First off, drop shoulders? Really? Is there anyone who looks good in drop shoulder sweaters? The model (especially in the photo with the bike) doesn't look so happy. Of course, given the pattern just came out, that photo was probably taken in July...she was probably about to pass out from heat exhaustion! And the ribbing (well, sort of ribbing) at the top of the sleeves is odd. As to the yarn, I always think there's some shameless self promotion when people design with a yarn they make themselves. Of course, you could sub in any light-worsted weight yarn, but still – aren't there better ways to get your yarn line's name out there?

Lucie - Again, with pimping your own yarn. I think the variegatedness would be too much for me, but I do like the neck line.

Cactus Flower - I feel like there's something wrong with the cowl. I can't put my finger on it, but still, something just isn't right.

Ivy - How exactly are wraps more versatile than regular sweaters? That aside, although the sweater isn't my style, I think it's a very pretty sweater.

Serrano - I love the hook and eye closure! The rest of the sweater I love too, but I used to have a sweater with hook/eye closures down the front, and it was the bestest cardigan ever! EVER!. The rest of the sweater – I love the lace pattern, love the fact that it's knit in one piece (well, the body, sleeves, clearly, 2 more pieces), love the cuffs, love the edges. Love, love, love.

Avast - I like this one. You don't see lots of men's sweaters that are understated, yet patterned. They're either heavily cabled, or all stockinette. No nice middle ground. It reminds me a lot of Samus, with a less intense cable.

Sherwood - That's so cute. A lot of work for something that they'll grow out of in a very short time, but still, so cute. The sizes are little ... odd. Looking over it, the sizes run 2-16 (don't they usually run by age?) And the measurements run 24 inches to 39 inches. So I could make the largest size of a kids sweater for me, with room to spare.

Intolerable Cruelty - Is there really a market for girls who WANT to put a big giant bow on their ass? I'm just wondering. Someone in another forum speculated that it would be great if you wore it somewhere you never had to sit down.

Little Slip - I think I've made my thoughts on felted bags pretty clear in the past. I did like the brief tangent about the toaster oven, along with cautions to do a gauge swatch.

Lizard Ridge - I'm always the first to acknowledge that knitting something yourself costs more than buying it in a store. However. 20+ skeins of Noro Kureyon, going for $9/ball comes up to $180. For a blanket. The ripples kind of remind me of a blanket my grandma knit back in the 70s. Did we really need a new pattern for that? Or was my grandma just a visionary?

Red Herring - I've never done a colorwork sock before, seems like the potential for toes getting caught is too great a risk. But in different colors I might really like this sock. With a different heel. That heel looks funny.

Cablenet - So cute! I might not cable the foot part at all (just the leg portion), but I'm definitely making these. At some point.

Sox on 2 Stix - Knitting in the round is not hard. I refuse to acknowledge anyone who caters to people who refuse to try new things.

Diamante - Clean, simple, understated. I like that in sock. I bet these would look really good in a variegated yarn, too.

Ayla - Normally I love all things pink, but I'm very meh here. Perhaps if I had a wee niece, I would understand the desire to carry wee felted backpacks.

Sugar on Snow - I find that most often when I need a knit hat, I also need a scarf. So a smoke ring is better suited to my needs. Plus, I'm opposed to hats that cinch at the top. Bust out the dpns and have a nice clean crown.

Tamarah - I bought the yarn for this during lunch today. About 20 minutes after I saw the pattern. I really wish there was a schematic, showing how triangle 2 sits relative to triangle 1, and so on.

Tiggy Tweed - Makes me like Little Slip. It looks like it hasn't been blocked, and that's bothering me.

Back to School - If these were double knit, I bet they'd be pretty cool. But the wrong side is going to look so meh. Also, sugar and cream =/= good for faces. Sugar/Cream is for dishes. I hear cotton chenille is at least a little nicer, although I've never felt compelled to knit a face cloth. (And yes, I know just how much sugar and cream softens. After 15+ years, it's pretty nice. Until then...)
posted by Amber @ 3:54 PM

Sunday, September 10, 2006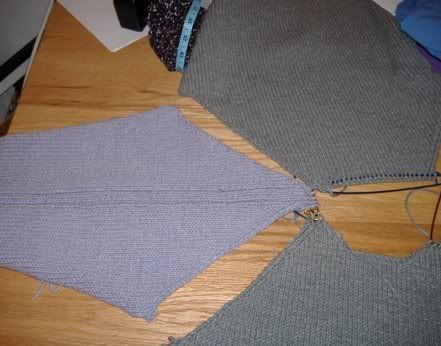 I finished the first sleeve on Janda last night. I had been thinking that the sleeve was done with intarsia or mini-fair isle, but as it turns out you crochet the white stripes on later. The sleeves are a little strange in other ways -- the cuff is done in K3P2 rib for two inches, then when you start the sleeve stripe, you switch to P3K2P3. I didn't realize that, and thought it was so clever that you'd carry the P2 section up from the cuff. So my stripe is ever so slightly off center. But it's only one stitch off, so I don't think it will bother me.

The All Seasons Cotton is pretty nice. I'm using bamboo needles, and it grips them a little more than I'd like sometimes. In the gray skeins there were two knots - one early on and the other right in the middle of the skein.

Okay, back to the probability proofs that are kicking my ass.
posted by Amber @ 1:58 PM

Busy Hands
Monday, September 04, 2006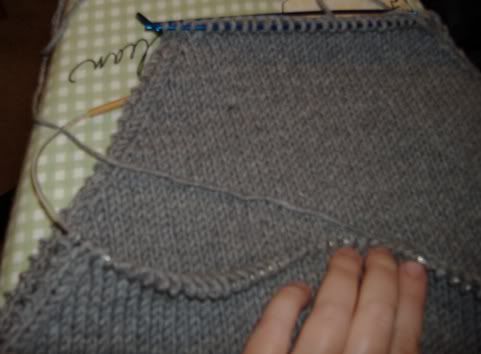 I've gone through 5.5 balls of All Seasons Cotton, and I'm 22 rows from starting neck shaping. TiFaux has gone from 92% to 28% including the entire season of "Psych." It was okay, the thing that excited me most was that Dule Hill's character has an Echo hatchback.
posted by Amber @ 10:57 PM

Statistics: A. Pins: F.
Friday, September 01, 2006
I may fail at pins (all 300 of my t-pins are currently in use) but at least Flora scented Soak rocks. Next time I'm at Stitch DC I'm getting one of the big bottles. Mmmmm. Flowery, yet not overpowering. And my apartment does not smell like a heard of wet sheep went trapsing by.
posted by Amber @ 10:51 PM

Goooooooooal[s]!
The August Goals:
Finish Nashua Sweater: Not done. Needs sleeves.
Finish (not including seams) Cabled Hoodie: Not done. But close. Probably 8-10 more hours, plus blocking and seaming.
Get a pair of socks past the toe to carry around campus: Decided on cuff down socks. They're about 1/2 of an inch long.

New September Goals:
Finish the Cabled Hoodie (no sweat, right?!)
Finish Nashua sweater (erm, yay for stockinette?)
Do sleeves for SKB-Knock Off (I have the silly desire to refer to my version as "Canal Street"). Re-evaluate feasibility.
Reswatch All Season's Cotton on size 6 needle, be obsessive about math, and start Janda sweater. Bribe Amber (other Amber, sillies!) to show me the Russian Join.
posted by Amber @ 12:54 PM