May Knit Goals!
I'm prone to being a scatterbrain, so I try to make a short list of things to accomplish each month (lest I have 27 different non matching socks).
No throwing books during finals - Sucess!
Finish Yarrow Rib #2
Start (finish?) Entrelac Socks
Start Eunny's Vest, Ribbi Cardi #2
Work on Dumb Scarf
On the Sticks
K1, YO, K2Tog Scarf
Yarrow Ribbed Sock
Rogue
Raglan with lace panel sleeves
Ribbi Cardi #2 (black/purple)
Sweater-A-Month 2007
Picovoli: Cathay - Needs blocking
Cabled Hoodie: Cascade 220 - Needs seams
Urban Aran
Durrow - Done!
KnitPicks' Kimono Sweater: Silky Wool
[Sort of] Samus: Chester Farms 2-ply worsted - Some seaming and a whole lot of i-cord left
Ruffli Cardi
Top Down Raglan: Nashua Creative Focus Worsted - Needs blocked
Tricot: Ella Rae Classic (?)
Janda: Rowan All Seasons Cotton (gray/lavender/white) - Done!
Tubesque: Noro Garden + ???
Springfield (Cabley Twisty Rib Raglan): Cotton Plus
CeCe: ??
Lucy in the Sky: Shelridge Farms W4 (pink lemonade)
Rogue: Handspun
Shawl Collar Cardigan: Kathmandu Aran Tweed - Done!
Elizabeth Zimmermann's Bog Jacket
Ribbi Cardi: Cotton Ease (Black/Purple)
Ribbi Cardi: Cotton Ease (Blue/White)
Simple Knitted Bodice: Silky Wool?
Be a joiner!
An Unused Box!
Something should go here.
Yarn!
Wednesday, May 31, 2006
In addition to the fun yarns I picked up this weekend in NY, I swapped one ball of nice koigu for two balls of koigu spaghetti - it was waiting for me in the mail when I got home: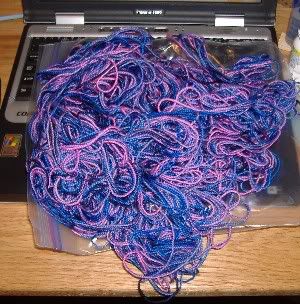 I've already wound some of it: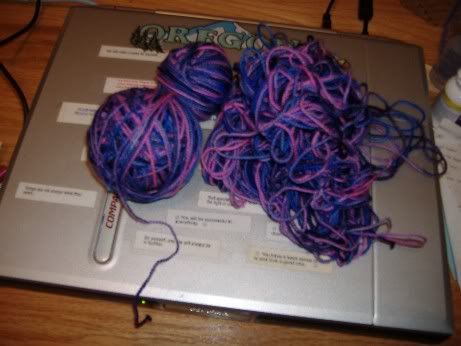 I should be able to finish ball 3 by tonight!
posted by Amber @ 2:39 PM

Knits in the City
Monday we found just about every yarn shop in the city was closed, either because they were always closed Mondays, or closed especially for Memorial day. We did visit Gotta Knit! where I found...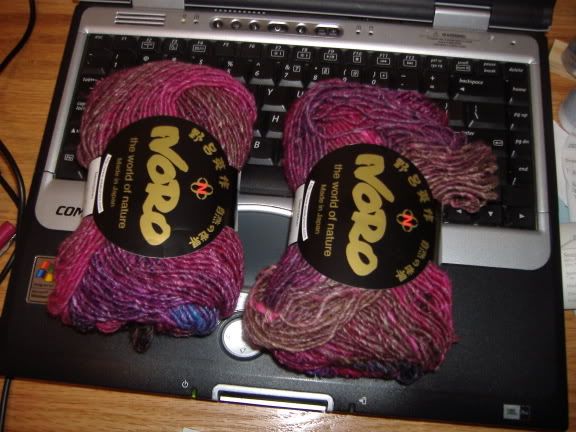 I'm going to make this sort of bucket style hat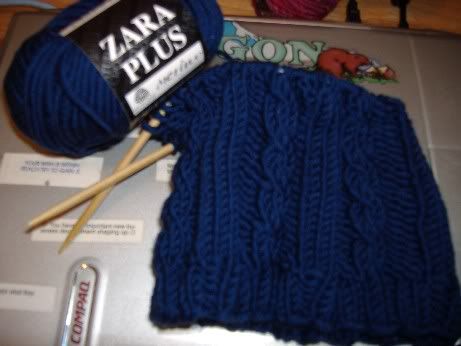 Since Abby has been asking me to teach her to knit, we picked up some basic yarn (maybe a wee bit too splitty) and started on a rib & cable hat (I wrote the pattern at Starbucks on Monday morning...I'm thinking of ironing out some things and maybe sending it to knitty - it's very repetitive and (I think) a really good beginner hat - some knitting, some purling, some cabling, some DPNing, and some knitting in the round). Abby's doing great - I just forgot to take a picture of her hat before I left.

The store was small, and a little understocked, but cute and the owner was very friendly. The owner and another woman were the only ones there. When I mentioned that I was from DC (saying my LYS didn't carry much Noro and it makes me sad), she said I was the second person that day visiting from DC.

Then we went to Purl, which was the most adorable little store. So cute! I think that if I need to order something online, I want to order from them. So little, so cute, so colorful! And friendly and helpful, without hovering (as best you can not hover in a store smaller than my living room).

I picked up...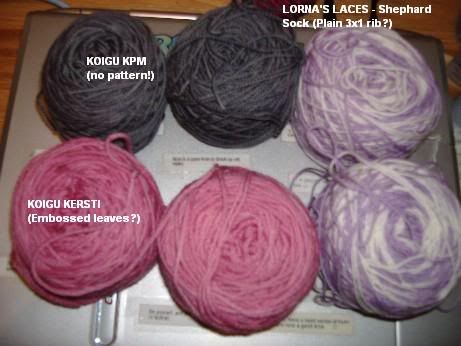 The gray koigu will match gray and black pants (my fashion sensibilities tell me that the bright and colorful hand knit socks go with jeans, but come winter in Baltimore, wool socks will be cozy). Not sure of a pattern yet.

The pink koigu kersti might be mittens, not socks. Not sure.

The Lorna's laces is self striping (about two rows in each color), so I won't do too much of a pattern (so I don't muddy up the stripes). Maybe some sort of ribbing at most (not such a fan of plain stockinette socks).

I also picked up some Bryspun needles, since I've heard good things about them for lace knitting.

So on the bus we pass M&J Trimmings. We'd called that morning, but they had a "Closed" message on their phone - which was funny because they were very much open! See, I'd been flipping through Martha Stewart Living, and they having been doing recaps of the past 15 years in each issue (favorite recipes, good things, and this month: Suppliers), and one of their favorite suppliers was "Tender Buttons" - a large button store in NYC - so I wanted to go and maybe get a button/clasp for my sweater. They were also closed all weekend, but while searching for URLs to yarn shops (to call and see who was open Monday) we found the URL to M&J. Anyway, so we got off the bus and darted in, about 30 minutes before closing. I found a great button (button is also only about 3/4 of an inch in diameter) for my Sitcom Chic sweater (20% done, I keep forgetting knitting on the train=motion sick!). Abby also found a nice magnetic snap and button for a Talmud cover she's making - a very productive stop overall. Then we caught a bus that ran up Riverside Drive - while Law & Order (all varieties) would have you believe it is crawling with people just waiting to abduct and/or shoot you, it was actually very pretty with some lovely apartment buildings.
posted by Amber @ 10:23 AM

Musings on future knits
Wednesday, May 24, 2006
I wish there was a better way to catalogue my yarn, patterns, and plans online. There probably is a very simple way, and I just don't know how to do it, but still, I wish there was a simple way that I knew how to do.

I've decided this is my own personal Summer of the Sweater. I know, most people do small, lightweight projects like lace in the summer, but I'm going to be a maverick. Plus, I can't really do tons of knitting in the fall, what with school, so I'm going to do as many heavy wool sweaters now as I can, and then do my small hat/glove/scarf projects during the term (it's just so hard to carry a sweater around along with all the books!)


My own summer of the sweater...

Spring Fling in Debbie Bliss Cathay (Cream) - 50%
(I'm still thinking of ripping out the second front, since there's a little mistake that stands out to me. Overall, I'm not sure if I like it anyway, the Cathay seems too heavy for the pattern.)

Sitcom Chic in Lion Cotton Ease (dark blue) - 10%
(So far so good. Then again, so far I've knit 16 straight rows... hard to screw that up)

Tubey in Lion Cotton Ease (black) - 50%
(I did the shrug part, still have the body left to do. No real pressing desire to do make a 20 inch tube in 3x1 ribbing anytime soon. I started the body a while ago, but ripped back because it was just too big, so I'm starting again on size 7 needles one of these days. I also put it down because I'd just done some gloves in alpaca/cashmere blend, and touching the cotton/acrylic blend felt like I was knitting with horrible, horrible rope.)

Ruffli Cardi (my own design) in Elizabeth Lavold Silky Wool (black)
(This may move down the list, since it's basically the same construction as Sitcom Chic – raglan sleeves, knit in basically one piece. I've seen a lot of bad ruffles lately, so that makes me concerned, and I wonder if I shouldn't do a simple lace pattern around the edges instead.)

Cabled Hoodie in Cascade 220 (purple)
(As Gina has pointed out in her blog, it would look better with half the cables reversed, so I should rechart those one of these days. And see what all would happen to the hood.)

Two Color Raglan in Canadian Yarn (purple)
(Descriptive, no? Hopefully enough yarn to do a whole sweater, I'm thinking of trying a top-down pattern, maybe this one. Maybe I'll do a test one in some of the other yarns I have laying around first, before I get all wild and crazy with two colors...)

Deep V-Neck 3/4 Sleeve Top Down Raglan(?) in Nashua Creative Focus (blue!)
(I bought all the yarn in this color Stitch DC had during a sale - 5 balls at 220 yards/ball should be enough to make a sweater... but to be safe I think it will be a very boring sweater. That, or figure out a way to do some sort of stripe pattern on the sleeves with a contrast color.)

Samus in Chester Farms (purple)
(From Maryland Sheep & Wool, the other Amber in my knitting group is doing the same sweater, in the same yarn, in green. We aim to confuse. The yarn is naturally superwash, and gets so soft in the washing machine. This will probably be an end of summer knit, since I'm still burned out from the Saxon braid on my theoretical sweater from the beginning of the year.)

Mariah in ?
(I'm loving cables, but have no idea what I want to make this sweater out of. Part of me says the recommended yarn (Paton's classic merino, I've had my eye on the "Old Rose" color for a while), part of me says something softer and more superwashable, maybe Cascade 220 superwash, maybe Mission Falls if I can find a good deal on some. Maybe not superwash, and go with something from Knitpicks or Elann. I'd also like to make Durrow, but that could be scooter love clouding my vision.)

KnitPicks Kimono Sweater in ? (EL Silky Wool - Purple?)
(After seeing one in a knitting community, I just love the sweater, but I'm not sure what I'll make it out of. I'd have to buy more silky wool, but if I recall, I wouldn't have to futz with gauge very much. The one I fell in love with online was done in merino style from knitpicks, which is very nice yarn as well, and not expensive at all.)

Paton's Urban Aran (Zippered Cardiganized Version) in ? (Elann Peruvian Highland Wool?)
(After seeing one online in Elann Peruvian Highland Wool I was sold on this sweater. Maybe I'll make it in gray or black, since most the yarn I already own is purple or blue, it limits what I can wear under the sweater. It looks like a really nice fall sweater, for when I'm not quite ready to break out the pea coat.)

11 sweaters. 3ish months. Not at all a pipe dream or anything. With yarn for 8 of them at home. Also, I'd like to learn fair isle, and a few weeks ago I picked up a book of fair isle motifs (actually, colorwork motifs, some were fair isle, others were Norwegian, Native American, etc). We'll see how that goes for me.
posted by Amber @ 9:16 AM

Sock Stealer!
Monday, May 22, 2006
This morning, my mom tried to make off with just one Hedera sock (the other one not being done yet).

So much for "Don't make me any knit socks!"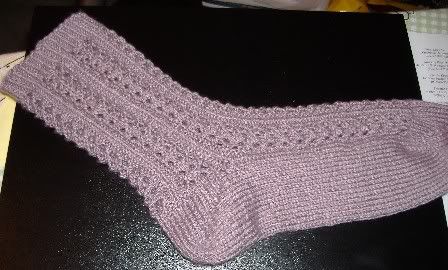 posted by Amber @ 9:16 AM

Woes
Thursday, May 11, 2006
I'm hungry. I haven't gone grocery shopping in weeks. But I also haven't had the desire to cook in months. Maybe summer (and the lack of math classes) will help me enjoy cooking again.

I've lost two balls of Cathay. I checked my car, and then thought I left it at work (which would have been strange, since I had the needles in my bag). I was going to work on my Spring Fling, even though the knitting ADD set in, and I don't care about finishing it anymore.

After a great deal of swatching, I finally decided to make myself a pair of Om socks (so Abby and I can be bitches in prom dresses with second-cousin socks!*). Except that even though my gauge is spot on with size 1 needles, the socks are way too big. I'd have to pull them way up around my calf to get them to stay up, which defeats the point of ankle socks. I was happy that they only take about 200 yards to make a pair -- and the rowan 4 ply is 197 yards. So now I'm torn:

If I went down to size 0 needles, the fabric would probably be too dense for a comfortable sock (it's already pretty dense).


If I unravel and futz with the repeats, I lose all the work I've already done (and if the futzing goes wrong I start over from square one -- at least if I did switch to 0s and it failed, I could still have all the work I've already done on 1s.


I could put the 4ply down, and make modified Thujas with the knitpicks I've been carting around in my bag.


So many decisions. So hungry. ::Pouts::

*Second Cousin Socks: So when you're using self striping yarn, and sock 1 and sock 2 don't stripe quite the same (like where on one you'll have a colorful stripe at the toe, and on the other one you'll have white space), or when you're using verigated yarns and they just pool differently, people sometimes joke that the socks are fraternal twins. So I made Om Socks with Artyarns supermerino (those socks are fraternal twins), but I was working with Rowan 4 ply, in Monet. So even with the same pattern, they'd be pretty different socks. Hence, second cousin socks.

Clearly, I should get out more. And eat something.
posted by Amber @ 10:37 PM

FO - Odessa Hat
Monday, May 08, 2006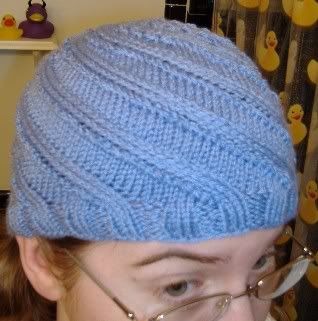 Pattern: Odessa by Grumperina

Yarn: Rowan Cashsoft Baby DK, in "Blue Boy" (809) The pattern claimed that you wouldn't have any left overs, but I have a fair bit. I could have made the straight section a bit longer, to cover my ears (like in the picture). I knit until it was 5.5" before starting decreases. Apparently my row gauge was off.

Needles: Two circs! Size 4 and 6.

Thoughts: A definite keeper! Very quick and easy to make (I started twice on Friday - once I didn't count right, and then again later that evening, a very little bit of knitting Saturday night, a lot of knitting Sunday, and just the decreases on Monday). I left out the beads, but I think it would look just as cute with the beads.
posted by Amber @ 4:52 PM

FO - Socks AND a Hat
Friday, May 05, 2006
First, everyone say hello to Alissa, she's awesome, and she's new to the world of knitblogs, and she works at Stitch DC.

Last night I finally got around to finishing my second sock. Why you may wonder, when it has been happily sitting on my shelf for a month, just waiting for me to sew up the toe? Because I ran out of footies to wear with my evil shoes, and it would have been silly to wear athletic footies with my evil shoes -- purple footies that clashed with my skirt were a much better option!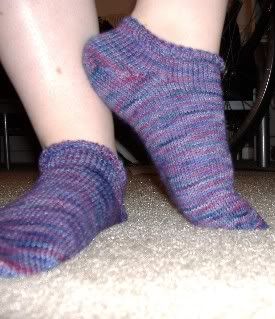 Specs:

Yarn: Koigu KPPPM (lost the label, I think it's color 426)


Needles: 2 addi turbos, size 1


Pattern: Holly from Knit Happens socks on 2 circs (free with purchase of a class)


Overall: Too warm to wear out today (it was 80 something, I think), but so soft. The heel is feeling very thin (but very soft) after just one day in some shoes. Perhaps a tighter gauge would help.


The shoes are evil because the back cuts into my ankle and makes me bleed, if I don't have something between my skin and the shoe. But they're adorable, and everyone always complements them. Here is a very blurry picture of my shoes (with the socks).


I've also recently finished a hat. Pretty basic top down pattern, from The knitting fiend (down for now), ribbed and then folded back. It used 1.5 balls of the Debbie Bliss Cashmerino Astrakhan (in Eggplant)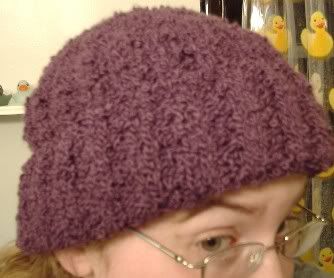 Specs:

Yarn: Cashmerino Astrakhan


Needles: 2 circs, size 7 (I'm loving knitting in the round on two circs. I may never go back)


Pattern: Sort of based on the generator, mostly: double your stitches every other row until it fits around your head. Then 2x2 rib for ~10 inches, or until you can fold it over and it still covers your ears (unless you don't like your ears covered by your hat, in which case, knit less than 10 inches).


Thoughts: I love 2 circs, and I love this top down hat idea (try it on as you go!), but I HATE the DB Astrakhan. After one day on my couch and a 10 minute trip to starbucks in my bag, the crown of the hat looked like horrific shag carpeting that was worn out and ready to be replaced. The ribbed part doesn't look as bad, but the top is just BLAH. On the bright side, the loopy texture hides the increases, so I was able to to a KFB increase all the way around, and it isn't noticable at all. Also, it is VERY soft and seems like it will be very warm this winter.


Tomorrow is Maryland Sheep & Wool. I think I'm going to go, mostly to check out the Chester Farms booth, since the wool is supposed to be naturally superwash, but the closest store that sells it is far far away. As is the farm itself.
posted by Amber @ 9:34 PM