May Knit Goals!
I'm prone to being a scatterbrain, so I try to make a short list of things to accomplish each month (lest I have 27 different non matching socks).
No throwing books during finals - Sucess!
Finish Yarrow Rib #2
Start (finish?) Entrelac Socks
Start Eunny's Vest, Ribbi Cardi #2
Work on Dumb Scarf
On the Sticks
K1, YO, K2Tog Scarf
Yarrow Ribbed Sock
Rogue
Raglan with lace panel sleeves
Ribbi Cardi #2 (black/purple)
Sweater-A-Month 2007
Picovoli: Cathay - Needs blocking
Cabled Hoodie: Cascade 220 - Needs seams
Urban Aran
Durrow - Done!
KnitPicks' Kimono Sweater: Silky Wool
[Sort of] Samus: Chester Farms 2-ply worsted - Some seaming and a whole lot of i-cord left
Ruffli Cardi
Top Down Raglan: Nashua Creative Focus Worsted - Needs blocked
Tricot: Ella Rae Classic (?)
Janda: Rowan All Seasons Cotton (gray/lavender/white) - Done!
Tubesque: Noro Garden + ???
Springfield (Cabley Twisty Rib Raglan): Cotton Plus
CeCe: ??
Lucy in the Sky: Shelridge Farms W4 (pink lemonade)
Rogue: Handspun
Shawl Collar Cardigan: Kathmandu Aran Tweed - Done!
Elizabeth Zimmermann's Bog Jacket
Ribbi Cardi: Cotton Ease (Black/Purple)
Ribbi Cardi: Cotton Ease (Blue/White)
Simple Knitted Bodice: Silky Wool?
Be a joiner!
An Unused Box!
Something should go here.
*Cries* and frogs
Tuesday, February 28, 2006
So I finished up to the shoulders of my theoretical sweater. Theory did not turn into practice. My favorite sweater is 42" across. My clingiest sweater that I like wearing is 40". (The front and back are equal sizes, so 22 and 20 inches, respectively).

The theoretical sweater? 18.5" (18.5*2 = 37 inches, THREE inches smaller than my chest).

It seems I forgot the cable makes it shrink in a little bit. There's just no amount of blocking that will fix it, so later today or tomorrow sometime I'll sit down with the ball winder and rip it out, and start again this weekend. In a way it's good - the three spots where I screwed up can be fixed, and I can change the neckline to have a cable run up the side, which will look nicer (as opposed to now, where it just ends).





(The grey one is the 40" inch sweater.)
posted by Amber @ 12:55 PM

More Theoretical Sweater
Sunday, February 26, 2006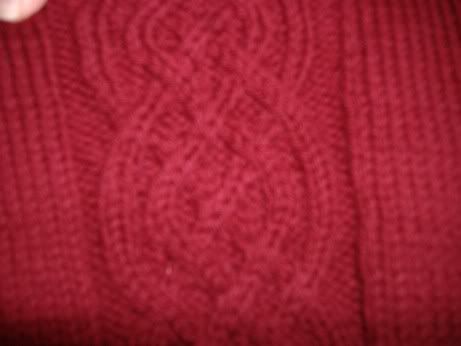 Clearly, I did not rip out the theoretical sweater. It takes me a little longer to pick out the mistakes -- probably because it's almost 3 times as long now! I'm just past the sleeve shaping, and ready to start the V-neck decreases. The front should go really fast now, all stockinette with decreases every other row.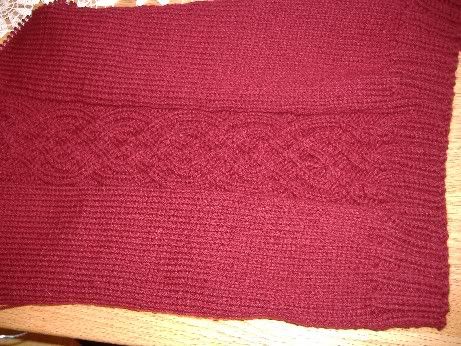 Yesterday at Starbucks (they reopened, for those of you who care about my coffee needs) a woman asked me if it was a sleeve. I'm already self concious about my arms, so that wasn't so helpful. But all the stockinette curls in, so maybe it just looked like a sleeve in the round to someone who doesn't knit. The woman's daughter was cute too, she was middle school-early high school, and was telling me how she just finished crocheting a scarf, and it took her a long time, but her next project was going to be an afghan.

And if you've made it this far in another one of my knitting posts, I have a question: Do you think I should add the braid pattern to the sleeves as well? It's about 4 inches wide, and part of me thinks the cable is best left just on the front, but part of me really loves the sleeves on Mariah (of course, I have plans to make Mariah ... eventually ... so maybe I want to keep the two sweaters really different. Hmmm. Decisions.

This sweater, on the cover also has nifty stuff on the sleeves that then goes up around the hood. But without the bobbles. Hate the bobbles. So yeah, I should probably save "stuff on sleeves" for another sweater...
posted by Amber @ 12:57 PM

New Project!
Thursday, February 23, 2006
I got my yarn from Knitpicks to start what I've dubbed the theoretical sweater -- theoretically it will fit, look nice, and be cute. In reality, I don't know (since the sweater has never been done before). I took a cable pattern I liked from one sweater (but didn't like the construction or excessive cabling), and figured out how to put it on a basic sweater, from the Handy Book of Sweater Patterns.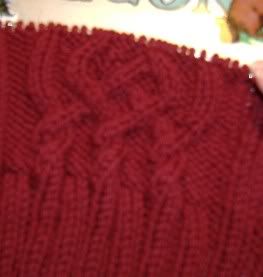 The color is more of a "brick" in person.

I'm thinking of ripping it out. I've done about 5 inches so far - 2 of ribbing, and then three of the pattern (I'm about 2/3 of the way through the first repeat). I dunno, I don't like the excessiveness of the original, but this feels like it's too little, in terms of decoration. The cable isn't so big that it can't have other elements around it (like say, Simply Marilyn (PDF)), but I'm not sure which other elements would look okay with the cable as it is now.

Plus, I've made two (one fairly minor, one that stands out to me) mistakes. Now is certainly the time to rip back and fix them if I want to (and cut out the ribbing. I always forget until I put on my favorite J Crew Sweater how much I hate ribbing.

I can't decide!!
posted by Amber @ 1:01 PM

FO - Panta
Saturday, February 18, 2006
So this was my olympic knitting downfall -- I wasn't going to start new projects for 16 days. But then, I decided the pretty handpaint stripes supermerino just had to be knit.

It bacame a "panta" (I really wish I could find a translation, but there's some discrepancies about whether the original pattern was in Finnish or Portugese).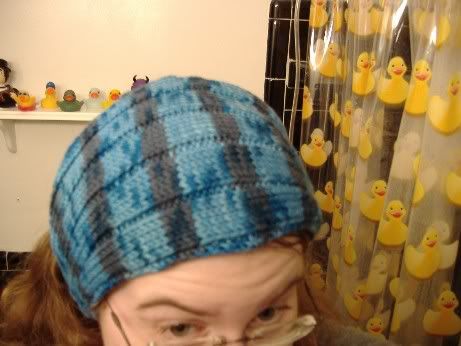 I got the pattern from someone at Craftster.org, but that seems to be down today. There's a discussion of it here.

Basically, it's a ribbed strip that starts out skinny, gets bigger, and then gets smaller, and then both ends are sewn together. I blocked mine extra wide to be more of an ear cover -- since I've always got a barrette or something in my hair, hats tend to catch on them, or not fit right (or I don't put my hair up until I get to work, and look a little silly. I think it makes my forhead look big, but warmth over fashion.

I used about half a ball of Artyarns Handpaint Stripes Supermerino in colorway 107. Which means I have half a ball left if anyone wants one (or wants to make their own, it's supereasy).

Another view: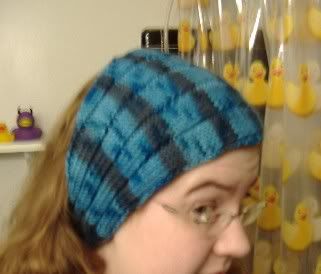 posted by Amber @ 9:49 AM

FO - Om Socks
Thursday, February 16, 2006
This was originally written to be posted to a knitting community - since I wanted immediate feedback, but didn't one one Abby to see them before they got to her. So it's long and more involved than most my FO posts.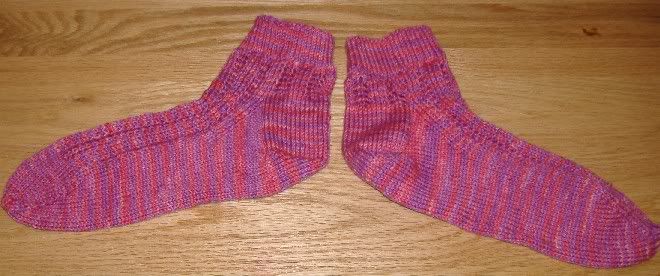 I can't model the socks, her feet are larger than my feet. Perhaps she will accost someone with a digital camera and send me pictures. Or else I am just going to have to haul my ass up to NY one of these days. What a shame that would be. I hate NY, afterall.

Notes:

Pattern: Om Ankle Socks, as seen March 24-26 in the 2006 Knitting Pattern A Day Calendar, and also at P2 Designs, although I left out the symbol for "om" (sound of creation, so says the pattern -- it wouldn't have been pretty with the verigated yarn), and I shortened the ankle from 12 eyelets to 6, to keep it ankle length. Also, I used DPN instead of the two-circulars method called for. The pattern was clear and well written, and I'm definitely keeping it for another pair in the future.

Yarn: Three balls (about 2.8 balls, really) of Artyarns Supermerino, in colorway 110. Three comments on the yarn:

First, I love working with this yarn, I only hit one snag in 3 balls, but there were no underspun, oversupn spots, or knots.


However, according to the website 110 is "Every shade of pink," and mine just seems so much more medium pink and dark lavender. I'm not complaining, I love the colorway – but I bought it in person and knew I was getting a pink-purple yarn. It makes me wonder what the pink-purple colorways look like.


Finally, in some of the pink spots, it seems the dye didn't soak through the yarn completely and half the strand will be darker pink, while the other half the strand had practically no color. This is the first time I've worked with this yarn, so I don't know if this occurs with the darker colorways as well*, or if it's just the pinks. It's barely noticeable now that the socks are finished, but it was odd when I'd come across neutral colored spots while knitting.


Needles: Clover bamboo DPN, size 3. The pattern calls for size one needles, but since I was using a worsted weight yarn and I fiddled around with the gauge so I didn't have to change the pattern. The pattern calls for 8 stitches and 12 rows per inch (on the size 1s). This one is 7.25 stitches and 8.5 rows per inch. And it all worked out perfectly.

Time: I started Friday, Feb 3, and finished up Feb 11.

I love socks! I must make more of these. Both because they are fun and squishy and soft, and because I received direct orders :-D


*

I bought some of the blue handpaint stripes to make a headband, and I'm not noticing this problem at all
posted by Amber @ 9:53 AM

Musings
Friday, February 10, 2006
So I was thinking to myself this sweater (PDF) might be kind of cute, if...

it had set in shoulders
it only had the center saxon braid
it didn't have the double twisted rib
it had plain sleeves
it had a V-neck.

So basically, a different sweater would be really cute.
posted by Amber @ 9:58 AM

New Yarn
Friday, February 03, 2006
After a very long project lunch today (all project lunches should last for 2.5 hours), I went to stitch DC to see if they had short darning needles (I have thick, short needles, and thin, long needles, but no thin, short needles). I asked if they sold any and she said no, but fished around in her own knitting bag, and handed me one of hers. Figuring she wanted it back, I sat down on the couch and wove in ends to my fingerless glove. When I went to give it back, she said to just keep it, so I could weave in the ends on the second glove. *hearts*

I also picked up two skeins of Artyarns Supermarino, in the 110 colorway. I see...slouchy socks in my future (one of these days, when I learn about socks...). It sounds silly, but it reminds me of a fruity, tropical drink, with a little umbrella stuck in a pineapple or cherry. They can be happy, anti-cloudy day socks.
posted by Amber @ 9:59 AM

A mitt with no mate
Thursday, February 02, 2006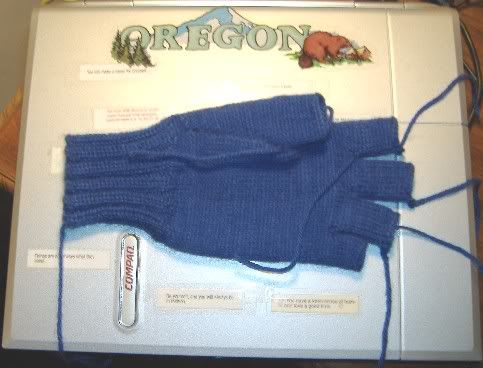 So I ripped out Broadstreet on Monday night. (I know, I know, it was pretty, but it didn't fit. And it didn't fit anyone I could give it to. And it had only taken me three days.)

I cast on again, going down from a size three needle to a size two (and going from 7 stitches per inch to 8). I did about a half an inch of ribbing Monday, up to the pinky on Tuesday, the ring finger on Wednesday, and I finished the middle finger, index finger and thumb tonight. Tonight I also found my regular weaving needle was too big (short enough, but too thick, and my other needles that are thin enough are too long!)

It was funny, I was working on it for a while before class on Wednesday and a guy in my class (who does not seem dumb, but is married before anyone makes suggestions) asked me if I was starting it now for next winter.
posted by Amber @ 10:01 AM