May Knit Goals!
I'm prone to being a scatterbrain, so I try to make a short list of things to accomplish each month (lest I have 27 different non matching socks).
No throwing books during finals - Sucess!
Finish Yarrow Rib #2
Start (finish?) Entrelac Socks
Start Eunny's Vest, Ribbi Cardi #2
Work on Dumb Scarf
On the Sticks
K1, YO, K2Tog Scarf
Yarrow Ribbed Sock
Rogue
Raglan with lace panel sleeves
Ribbi Cardi #2 (black/purple)
Sweater-A-Month 2007
Picovoli: Cathay - Needs blocking
Cabled Hoodie: Cascade 220 - Needs seams
Urban Aran
Durrow - Done!
KnitPicks' Kimono Sweater: Silky Wool
[Sort of] Samus: Chester Farms 2-ply worsted - Some seaming and a whole lot of i-cord left
Ruffli Cardi
Top Down Raglan: Nashua Creative Focus Worsted - Needs blocked
Tricot: Ella Rae Classic (?)
Janda: Rowan All Seasons Cotton (gray/lavender/white) - Done!
Tubesque: Noro Garden + ???
Springfield (Cabley Twisty Rib Raglan): Cotton Plus
CeCe: ??
Lucy in the Sky: Shelridge Farms W4 (pink lemonade)
Rogue: Handspun
Shawl Collar Cardigan: Kathmandu Aran Tweed - Done!
Elizabeth Zimmermann's Bog Jacket
Ribbi Cardi: Cotton Ease (Black/Purple)
Ribbi Cardi: Cotton Ease (Blue/White)
Simple Knitted Bodice: Silky Wool?
Be a joiner!
An Unused Box!
Something should go here.
Follow up, and half project
Friday, December 22, 2006
First, thanks for the nice comments on my scarf! The yarn is Scarlet Fleece Silk & Ivory, in "Claret" (not shown). It's 50% silk/50% merino, 200 yards per ball (I have two), sportweight, and I'm using size 7 needles (which took a while to get used to - I don't see how Judy can make such great shawls using fingering weight yarn with large needles. Fingering weight yarn and size 0/1, sure -- but on 6s and 7s? Practice, of course, but wow.)

In other news, I finished knitting the felted bucket hat: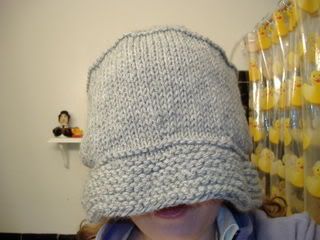 There's a tip in the pattern to use a 39 oz coffee can to block the hat while it dries. Seeing as I don't drink coffee from a 39 oz can, I pondered what to do. Then I remembered my grandfather drinks coffee from 39 oz cans, so I called him and found out what brand he likes, and picked one up on my way home from work. After the hat is dry, I can pop it in the mail, and everyone wins!
posted by Amber @ 10:06 PM

Not Purple!
Wednesday, December 20, 2006
No matter the light, my new Mountain Stream Scarf is not purple! And, it is not a gift. MSS, in all it's pinky glory will be MINE!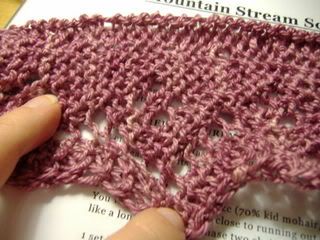 posted by Amber @ 9:13 PM

Pattern Buying Fool
Friday, December 15, 2006
With all my newfound free time, I've bought a bunch of patterns for things to start during the holidays.

Mountain Stream Scarf - I saw one in a blog that looks tons better than it does on the website, so I decided to give lace a shot. I'm going to be using some Holly Spring Homespun/Scarlet Fleece I picked up in Richmond a while back. It's a lot smoother than the Kidsilk haze, but I think it will work well.

Lucy in the Sky Cardigan - I can't wait to make this! I was going to start tonight at a knitting group at bead obsessions, but decided to work on SuperSecret instead (what with the 7 days left to finish it). I'm going to use Shelridge Farms W4 in pink lemonade.

Anemoi Mittens - I haven't bought the pattern yet, but I do have the yarn. Karabella Aurora 4, which may be a smidge big, but I'm going to swatch and see. The sad thing is that my hands are the smallest size for the pattern - so I can't adjust in my usual way, which is to knit the next size down. Of course, at worse I just design my own mittens with the Aurora, and try to find something from the stash for the Anemoi mittens (I have lang jawoll and jaggerspun matchmaker(?) that I got in a trade. I'd have to double check the matchmaker, but I'm sure the jawoll would work).
posted by Amber @ 2:20 PM

The Hat that Ate My Head
Tuesday, December 12, 2006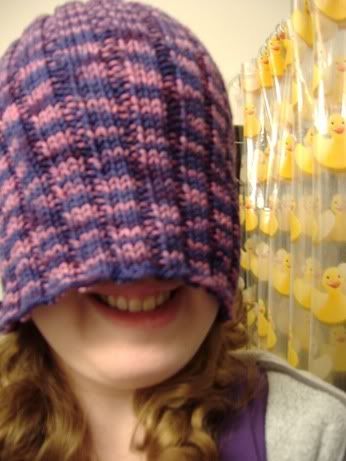 One final down (unsettlingly easy), one (expecting to cry) to go, but while waiting for today's final, I finished my hat. It was sort of an exercise in stashbusting - I had two balls of ArtYarns SuperMerino (can I mention how super this yarn is again?) from my toe up sock class - but I disliked the socks, so I figured I'd make a hat some day. A misestimation in yarn sent one of the balls abroad a few months back (and a certain prom dress clad bitch better send me pictures one of these days!).

Anyway, then there was one. Not having the good sense to do a basic top down hat (when was the last time I had good sense, anyway?) I just started a 3x2 rib (I think I might have planned to make a new Odessa). But then I didn't have the pattern with me and the ribbing was getting kind of long, and what the hell - 3x2 ribbed hat it is! I made it through the first ball, and the hat was about 6 inches. Off to Stitch DC and picked up one more ball (which of course is a different dye lot -- no one mention it to me!). I made it through the straight part last night at Stitch and Bitch, and then did the math to have five decrease lines (rather than the stand by: knit 10, k2tog, k 9 k2tog... or as I call it, the swirly top hat).

I did all the decrease rounds before my final today, people who also didn't want to study (cram) were asking me about it - one guy throught it was a pair of baby pants, later he asked me if I sew the top together and then turn it inside out (which, okay, you do sort of do that when you're sewing). I left my finishing kit at home, so I didn't get to weave in ends until then - when I also realized the top was too pointy. So I ripped back 2 rows, and now the top is much nicer.

The basic formula:
2 balls ArtYarns SuperMerino.
Cast on 110, pm, join in round. Work in K3P2 rib for ~9 inches.
From marker, work 22 stitches in pattern, pm; repeat (5 markers total)
Do a left slanting decrease (SSK), work in pattern until 2 stitches before marker, do a right slanting decrease (K2TOG) [now, you'll have 20 stitches between the markers]. Repeat around.
Work 1 round in pattern.
Work a decrease round (now, you'll have 18 stitches between the markers).
Continue until you have 10 stitches on the needles, break the yarn and thread through the live stitches, cinching the gap closed.
Weave in ends, fold back the brim and enjoy the warm eared goodness!
(I had about 6 yards left over)

[Pictures of the hat being normal tomorrow, when I have a photographer handy!]
posted by Amber @ 10:28 PM

Hey Look! New Knitty!
Friday, December 08, 2006
Center Square - It looks like the wind would cut right through it - look how the stitches pull apart! (16.5 st/ 4 inches -- Paton's Classic Merino on US 11s! When I knit a bag to be felted, I only used 10.5s!) I think I'd figure out a way to retinker it and use 6s, to keep my head toasty.

Calorimetry - I've been pondering what I have in my stash I could make this with. I have some artyarns supermerino that might work... If it does, you'll probably see this right after finals!

Hexed - I like the idea, but dislike the FO. I don't need a weird, crown-type beret! But I think you could use the idea to make a round cap, possibly using finer yarn to make smaller hexagons, and grafting them together to get them to lie flat. Will ponder.

Antifreeze - I don't ski (I enjoy looking at the snow from my window, with a mug of hot chocolate, but from what I hear this isn't a particularly useful or practical item. Maybe if I need to rob a bank when I fail out of grad school, and have to come up with a new source of income to pay my student loans.

Binary - Did you see that this was made with Red Heart Supersaver? Did you see that part? I do like the idea of having a scarf that says "SCARF" like the blanket that says BLANKET.

Argosy - Normally, I only like scarves that are reversible/the same on both sides, so I don't have many knit scarves. But I really like this one, and I think I have just the yarn for it.

Corazon - Must have! I think I'm going to look more closely at the measurements when I get home, and try and substitute a round toe from "Knitting Vintage Socks" (Nancy Bush) since I don't like the angled tip. But that shouldn't be too hard.

Tiffany - That is a really eye searing red there. The red-on-green is kind of hard to look at and really think about, but I think I like these mittens as well. In like, gray on blue or something less retina burning. Probably with ribbed cuffs, too.

Legwarmer Socks - I am confused, and they seam so weirdly bulky. (I had a roommate once who used to wear socks and legwarmers to bed. I had a solution - the heater! But then she'd complain she was too hot, and said I should sleep in a sweat shirt, not a t-shirt, and I said if she took off a layer, she'd probably be just fine. Ahh. College!)

Rolling Thunder - Cute, although I'd omit the beads.

Monkey - It took too many readings of the intro to figure out the name. I clearly can't brain today, I have the dumb. I also love those shoes, and want a pair!

Eiffel - Not really my thing (I prefer my sweaters not be see-through, and that they keep me warm), but cute. Could probably lose the sleeve bows, and just go for the one under the bust.

Lauren - What a cute way to use handspun! Maybe I will buy some of the handspun on etsy I've been eyeing...

Emerald - I really wish I could see the raglan detail - in the first picture it's dim, the second picture it's turned away, and the third it hangs so that it folds over! I don't usually go for big bulky sweaters (I pulled out a store bought one the other day, it really did seem to add inches to my waist), so if the design were cool enough, I might consider retinkering it with smaller yarn. The fourth picture is a little more helpful, but I wish I could clearly see it on a person!

Twinkle Toes - I'm seriously considering making these for a friend I used to take ballet with!

Spanish Dancer - Is it inspired by the slug, or Flemenco? Seems like it would be a very boring knit, what with the miles and miles of garter.

Slingshot - Here's how this is going to go down: You put the coffee in the holder. It slides down a little, but seems firm enough. You set out for the office. Gravity really kicks in as it hangs, and the strap puts pressure on the lid (as it is clearly doing in the picture!). Lid pops off. No longer supported by lid-on-strap friction, cup slides through the holder, and hits the ground. It just can't end well. Add a bottom support, or better yet, remember your reusable travel mug!

Babe - I don't ice skate, but I saw a conversation about this earlier. Apparently it is a good idea (even left unfelted) because the wool will wick away the ice/water, and help prevent rust.

Venezia - Can't say I've ever wanted to knit with beads, but now I wish I had more time between now and this housewarming party, so I could make a set for some friends.

Brownbag - It seems awfully lumpy. I have this great lunch sack (pattern from "Workbasket" magazine, many years ago), made out of canvas, with a piece of plastic canvas in the bottom for stability, it was washable and awesome.

Starsky Jr. - Cute, especially useful for people who are not my grandmother and can't just randomly resize a sweater so that kid can have a sweater just like Mom's.

Blended Hues - Cute, although I can think of some perfectly nice variegated yarn where you wouldn't need three strands. I know babies grow fast, so it can be frustating to knit for them, when they can only wear something a few times. But that poor child is being consumed by the sweater! Make it a little smaller for her!

Piggle - It doesn't seem like it would keep the poor girl's head very warm. Also, my family LOVED putting me in pigtails when I was a wee one. When it was winter, they just put them low on the back of my head, so that I could wear a regular hat.

Norberta - Cute (I don't have much need for toys, so I don't have much else to say).

Sheldon - Sheldon has a really freakishly large head. I think if I were going to knit a turtle, I'd use the felted kit from Patternworks, where you can get a whole family from one kit.

Book of Kintty - I like the idea of a cute little textured book for kids, although, stitching the names in? Eh. Do something like a plain sock, a plain sweater, a plain hat, and help them learn the names of garments or something. Also, blocking is your friend!

So that's 12/26 patterns I'd knit (if with some serious modifications/retinkering). That's pretty awesome!
posted by Amber @ 5:25 PM

FO: Ribbi Cardi
Tuesday, December 05, 2006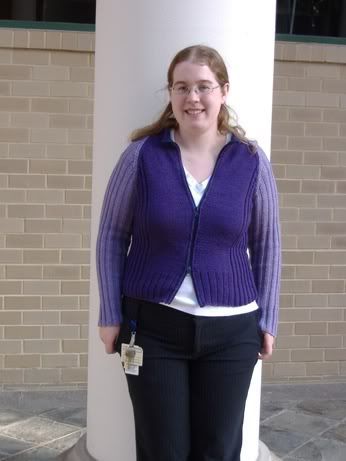 Photo by awesome coworker.

Pattern: Ribbi Cardi by Bonne Marie Burns/ChicKnits

Yarn: Shelridge Farms W4 in Eggplant and Wisteria (4, and 3 balls, respectively. If I remember correctly). I adore this yarn. Such a nice hand to it when finished, subtle variations in color (in a good way, not in a pooling/flashing way), so soft while knitting with it. The hanks are a little messy when you're winding, but after they're in balls it might just be the most perfect yarn ever.

Needles: US 7, bamboo

Time: About two weeks to knit - I think. I started it the last weekend of September and it was blocking by October 14th. I finished seaming over Thanksgiving weekend.

Mods: Lengthened the body and sleeves. I've misplaced my pattern with notes scribbled in the margins, but I think I could have made the body a little longer still. It isn't bad short, but I've been tugging on the hem so that it covers my tee-shirt all day.

I love it, and I'd knit it again in a minute! (Maybe I'll spice it up, and do the ribbed all over version.) It was so fast, it looks so cute, and it fits so well. I skipped around all afternoon waiting for people to compliment my sweater, just so I could say "Thank you! I made it!" I made a quick stop at Stitch DC to pick up yarn to finish a hat, along with some super long circulars (yarn was a success, circs were not; but I did get a cute little sheep measuring tape instead), and got to show off there. It's fun being around knitters who are familiar with the internet - Jess (Stitch DC employee) immediately knew it was Ribbi Cardi.
posted by Amber @ 8:30 PM

But there was a lot of statistics...
Friday, December 01, 2006
Perhaps goal-oriented knitting is not for me:

Finish Falling Leaves (pair): Not done. Did not start 2nd sock.
Finish first and start on second Yarrow Rib. No promises about finishing: Half done: finished first, started second, ripped it out when I realized I did it wrong.
Finish Springfield: Not done. Am considering ripping it out completely (I think it makes me look fat)
Finish k1/yo/k2tog scarf: Not done. Sitting on my desk at work to show off to people. It isn't like I like alpaca anyway.
Get through half of SooperSekrit holiday knitting. "Half" is so subjective, but let's say done
Seam RibbiCardi and take to tailor for the zipper. Done! I pick it up on Monday
List some cotton on a destash website. Done! I listed several things, and swapped wool and alpaca, but no cotton.

What the hell, let's shoot for the moon this month:

Finish SuperSecret (a must, in time for Giftmas!)
Seam something (Durrow, Cabled Hoodie)
Finish one pair of socks
Do sleeves on Sort of Samus
Freely succumb to Startitis after finals
Reorganize baskets and yarn closet
posted by Amber @ 12:13 PM