May Knit Goals!
I'm prone to being a scatterbrain, so I try to make a short list of things to accomplish each month (lest I have 27 different non matching socks).
No throwing books during finals - Sucess!
Finish Yarrow Rib #2
Start (finish?) Entrelac Socks
Start Eunny's Vest, Ribbi Cardi #2
Work on Dumb Scarf
On the Sticks
K1, YO, K2Tog Scarf
Yarrow Ribbed Sock
Rogue
Raglan with lace panel sleeves
Ribbi Cardi #2 (black/purple)
Sweater-A-Month 2007
Picovoli: Cathay - Needs blocking
Cabled Hoodie: Cascade 220 - Needs seams
Urban Aran
Durrow - Done!
KnitPicks' Kimono Sweater: Silky Wool
[Sort of] Samus: Chester Farms 2-ply worsted - Some seaming and a whole lot of i-cord left
Ruffli Cardi
Top Down Raglan: Nashua Creative Focus Worsted - Needs blocked
Tricot: Ella Rae Classic (?)
Janda: Rowan All Seasons Cotton (gray/lavender/white) - Done!
Tubesque: Noro Garden + ???
Springfield (Cabley Twisty Rib Raglan): Cotton Plus
CeCe: ??
Lucy in the Sky: Shelridge Farms W4 (pink lemonade)
Rogue: Handspun
Shawl Collar Cardigan: Kathmandu Aran Tweed - Done!
Elizabeth Zimmermann's Bog Jacket
Ribbi Cardi: Cotton Ease (Black/Purple)
Ribbi Cardi: Cotton Ease (Blue/White)
Simple Knitted Bodice: Silky Wool?
Be a joiner!
An Unused Box!
Something should go here.
Planning for Another Sweater
Saturday, March 31, 2007
I haven't updated about knitting in ages. You see, I got a little sick while on vacation. Tomorrow will be two weeks of being sick, so yesterday I went to the doctor. He confirmed that I have a cold. A bad cold, but just a cold.

In knitting news: I just got my copy of Elizabeth Zimmermann's "Knitting Around" in the mail. Must. Make. Everything!

First. I have to have The Bog Jacket like, right now. I saw this one online some time ago, and it really caught my eye. I want mine to have be multi-color though (like the one here, on the lower left). At first I wasn't sure about garter stitch (it's so ... gartery), but then I thought "Hey, the Mermaid jacket is garter stitch, but really pretty." Of course, the Mermaid Jacket is knit at 7-8 stitches per inch. Which is pretty small (let's see, 39" at 7.5 st/inch is 293 stitches. And that means something a little shy of 600 rows. That's a lot of garter stitch). Sure, I could go with dk or worsted weight (5.5 st/in - 215 st, and 4.5 st/in is 176), but then it looks so gartery looking.

Okay, so sizing issues aside, colors! I love the gray-white-black one (cited above). But how? I know EZ is pithy and all, but would it kill her to include some specs on making ones just like the pictures? (So some fun with a sketchpad later, I think I'd knit 5" plain, a row or two in black, and then about 10 inches in my contrast color. Or maybe 6.5" plain and 7" in contrast. So confusing!)

Other considerations. So I know I need to shorten it up (my longer sweaters are about 15" from armpit to hem), and lengthen the sleeve (although, I don't see why she says to use "about 12%" more stitches. (For me) underarm to wrist is 18". As written, it would measure 10" so I need 8 more inches. (Or 7 and then do 1" of garter in the reverse direction.) So I'd add X st/inch x 8 inches (which is about 20%). The waist shaping is easy enough to add (love(!) the faux seam), the shoulder short rows confuse me just a bit. Maybe they'll make more sense as they're being knit?

And so many yarn options. I have O-Wool (earmarked for the Top Down Raglan Along, but I like it, and could get more). Stitch DC is also now stocking Ella Rae Classic (100% wool - 220 yards for $7) - and they have Mission Falls. All lovely worsted options. For something lighter... maybe knitpicks' Telemark? I haven't worked with that before, and usually I prefer merino, but I like the colors. If I got really wild and crazy with the fingering weight I could try knitpicks' Gloss (or the Bare Merino/Silk - still fingering weight, but 440 yards (for $6.60, compared to Gloss 220 yards/$4) - and then I could dye it myself so I could have something pastel-y). I could do a lilac body with white stripe and dark purple accents.

Or, I could be smart and tell myself that I won't get to this sweater until at least May - so I should wait and pick something up at Maryland Sheep and Wool - only a month away!

(Oh, and the second must have: Seamless Yoke with Henley collar, then some mittens, and maybe a pi are square shawl.)
posted by Amber @ 7:00 PM

Israeli Alpaca farm
Thursday, March 15, 2007
Llamas rock: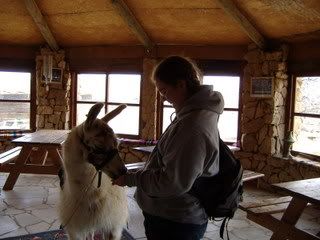 but alpacas bite!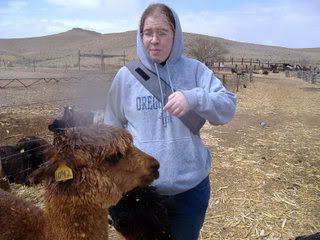 posted by Amber @ 3:44 PM

Spring 2007 Knitty
Wednesday, March 07, 2007
Bmp - I didn't have video games growing up, so the retro thing doesn't make me all nostalgic. It seems a lot of other people like them, so that's cool.

Carolyn - I read something once about always picking your buttons after you finish the sweater, because the button can make or break the whole thing. Here's a fun example of breaking. Also - I think I want to say what the hell is going on with that collar, but I'm not sure since her hair is in the way. I'm also curious why it's so baggy in weird places (check out the back shot). Is it just too long for her? (I refuse to believe it has waist shaping!)

Tahoe - I was going to say that I think I'd love this sweater with some waist shaping tossed in. Then I looked at the schematic and realized that would defeat the purpose of the sweater! Now, I like Cathay and I like Koigu, however, wouldn't knitting at a gauge looser than the ball band suggests give you a fabric that is fluid and drapey for one day, and pilly and worn looking for the rest of the days?

Ribena - I like this. No weird arm warmers for me (but possibly longer sleeves). I love the shape of the ribs, and how they extend up. I think I'd want to drop the neckline a bit to. After making Durrow, however, I'm worried about my ability to seam a saddle shoulder correctly.

Torque - I like the idea of the asymmetrical cable, and love how it splits into the collar (okay, I know, I love it when cables flow into/out of other parts of the pattern in general). But that sweater looks like it's going to eat those girls!

Isabella - You know what would have been fun? Consistent lighting in this photoshoot. Also, a clear, head on shot so I can see the whole thing. I wish the leaf thing continued all the way around the neck. Also, remember that old pattern Soliel? A lot of people had a hard time because the arm hole was so wide, and it was like peak-a-boob if you lifted your arm. The armholes on this sweater look exactly the same. If the armhole was just a little smaller, it would be awesome to wear under a blazer to work, and then ditch the blazer in the car and head immediately out for a night out with friends.

Ester - I know you're sad that your friend died and all, but I'm sure she'd still want you to get some natural sunlight. And to smile if you're going to be out on the internet! [Amber's Handbasket Tours to Hell leave every hour on the hour. Reserve your space now!] Now, I love deconstructing things that are, or could be, hand knit. However, I prefer my clothes fit properly and are flattering. So I'll stick with 2x2 ribbing that flows into 4 stitch cables and back into 2x2 ribbing, seed stitch that comes out of increases, and that sort of thing.

More Stripes - It amazes me that things can be ribbed, yet not the least bit fitted. I think I'd have the V stop in the middle of my bust - not below. It sort of makes her look like she knit the vest for someone taller and heavier - but that the friend wouldn't be the model.

Monica - That poor little girl looks so unhappy in the first photo. I wasn't the kind of little girl who liked this sort of thing, and neither were my friends, but I suppose there are little girls out there who like wearing the super frilly stuff.

Briar Rose - If I knew a little girl, I would totally make her this sweater (in one color). I might even take the cables and put on a sweater for me!

Hey Mickey - I admit - I look at the pictures first, and read the copy second. I thought the pattern was for the socks. I hated skirts as a kid, and I hate knitted skirts now, but I suppose if you've got a little girl who likes skirts in your life now, it would be fun to make. But why would you knit an acrylic skirt? At least give it some potential to bounce back after the first wearing.

Vestee - < Amber is a terrible person alert > I'm so glad I had hair when I was little, and there are no pictures of me being all hairless with a funny shaped head when I was a toddler. < /Bad person. > I see the short sleeves/t-shirt. I see the long sleeve/sweater. I see the hood, and the shawl collar. I see no vest anywhere as any part of this sweater. But I suppose Sweateree didn't have the same ring.

Palette - Pretty. Really, really pretty. But I wonder - are you supposed to block with points (the way the waves face), or are you supposed to block the sides square, and the knitter just did a half assed job?

Dashing - I like the way the cables cross, but having knit fingerless mittens like this before, I can tell just by looking that the bind off pictured is way, way to tight to be functional. Substitute a stretchy bind off (like if you were doing a toe-up sock), and you'll actually be able to USE your hands.

Paperbag - I LOVE the idea of a bag made of paper yarn, and calling it Paperbag. But I don't like this paperbag. I can't put my finger on why, though. Probably the bobbles. Little warts of knitting.

Bauble - Cute. Not something I'd wear, but cute and innovative.

Queen of Cups - Considering MOST socks are written top down, I don't see why the designer makes a point of noting how she's obsessed with top down socks. That's like saying you're obsessed with sweater knit in 4 (or 5 if a cardi) pieces, from the waist to the shoulder. Regardless, I love the socks, and I'm wondering if I should make them with gray Koigu or purple Rowan Cashsoft 4ply.

Quill Lace - If you make a point of saying that the pattern uses the eye of partridge heel, why not photograph the eye of partridge heel? Also, I wonder if the lace is stretchy enough to keep them up without ribbing. They look awfully loose...

Clessidra - Must have! Right now! Must have! Not a huge fan of all that seed stitch, so I might try the front panel in stockinette instead. Not sure yet. But I'm totally ordering yarn for this project when I get back from Israel.

So that's 3, maybe 5 things I'd knit from this issue. Considering I liked over half the things in Winter Knitty, and made a grand total of ZERO of them (so far!) that isn't so bad.
posted by Amber @ 9:29 PM

Milestone post, and knitgoals of the month
Friday, March 02, 2007
Happy 100th post to me! I've been holding off on posting because I wanted to have a picture extravaganza for Post 100. But then I really wanted to talk about myself, so I'll just make sure I'm prepared for Post 200.

My February Goals Recap:

Finish Falling Leaves Socks - Done! Still picture-less. They're a little odd - the pattern doesn't cling much, so they're loose around my ankles, and tight around my calf. In a do-over, I'd only do 7 pattern repeats on the leg, and then add more ribbing at the top.

Start another pair of socks for hallway knitting - Done! I started Pomatomus. Although their appropriateness for hallway knitting (when I'm a little early for class) is dubious - you really have to think about them!

Finish Kersti Glottens - Not done. I couldn't get excited about the thumb gusset.

Finish body of Lace Sleeve Raglan - Not done. But I did knit and assemble an entirely different sweater - the Shawl Collar Cardigan and I finished the body of Rogue (and discovered I don't have enough yarn for the hood, called the store, and found they don't have any more. Now I have to re-engineer the top of the body to look cool and be hoodless).

Order Super Secret Yarn - Done! Bwhahahaha!

For March:
March is going to be a light knitting month. I have two midterms and a 10 day trip to Israel! Why knit when there's falafel? And olives. And hummus. And wine. And falafel.

Finish Pomatomus (keep your fingers crossed I get a nice airport screener who lets me keep my needles!).

Figure out specs for Project Top Down Raglan. Cast on. Or possibly, knit one sleeve from my Old Blue Top Down Raglan. Sleeves are good too.
posted by Amber @ 10:23 AM