May Knit Goals!
I'm prone to being a scatterbrain, so I try to make a short list of things to accomplish each month (lest I have 27 different non matching socks).
No throwing books during finals - Sucess!
Finish Yarrow Rib #2
Start (finish?) Entrelac Socks
Start Eunny's Vest, Ribbi Cardi #2
Work on Dumb Scarf
On the Sticks
K1, YO, K2Tog Scarf
Yarrow Ribbed Sock
Rogue
Raglan with lace panel sleeves
Ribbi Cardi #2 (black/purple)
Sweater-A-Month 2007
Picovoli: Cathay - Needs blocking
Cabled Hoodie: Cascade 220 - Needs seams
Urban Aran
Durrow - Done!
KnitPicks' Kimono Sweater: Silky Wool
[Sort of] Samus: Chester Farms 2-ply worsted - Some seaming and a whole lot of i-cord left
Ruffli Cardi
Top Down Raglan: Nashua Creative Focus Worsted - Needs blocked
Tricot: Ella Rae Classic (?)
Janda: Rowan All Seasons Cotton (gray/lavender/white) - Done!
Tubesque: Noro Garden + ???
Springfield (Cabley Twisty Rib Raglan): Cotton Plus
CeCe: ??
Lucy in the Sky: Shelridge Farms W4 (pink lemonade)
Rogue: Handspun
Shawl Collar Cardigan: Kathmandu Aran Tweed - Done!
Elizabeth Zimmermann's Bog Jacket
Ribbi Cardi: Cotton Ease (Black/Purple)
Ribbi Cardi: Cotton Ease (Blue/White)
Simple Knitted Bodice: Silky Wool?
Be a joiner!
An Unused Box!
Something should go here.
Dullest knit blogger with the coolest car
Wednesday, August 30, 2006
The hoodie continues to be large and heavy (I did a three needle bind off on the shoulders, but the sides aren't seamed, so I have the back and the two front pieces flopping all over whenever I try to turn a row for the hood). I'm about 1, maybe 1.5 inches into the hood, working it to about 6 inches, then doing the short rows to make the upper back corner. The session at Stitch DC was really helpful, we figured out about how wide to make the corner, and how far up, plus decided it would be easier to pick up from the collar and work to the top, whereas my idea had been to start at the top and work down to the collar. But the whole thing is still terribly uninteresting to photograph. Post blocking, I promise.

My copy of Vintage Knits came last night, which was very exciting. Well, as exciting as a book can be. I've wanted to make Salina for a while now, and then I saw the KnitPicks version of Jolie and really want to make that one as well (also, I thought the design was with purl stitches - actually the pattern is created with slip stitches. Is very cute). I don't have a yarn in mind, yet. KnitPicks suggests their Andean Silk line, but I'm hesitant to work with alpaca again, since the Nashua is making me sneeze. I suppose I could be tracking ragweed in as well, but it seems worse when I'm working with the wool/alpaca blend. They seem to have added MainLine as a suggested yarn, and that might work out well (wool/cotton blend). Maybe I'll find a good deal on some Aurora 8. It strikes me as a dressy type sweater, I'm thinking black or gray, with some Opal buttons.

And finally, I'd just like to thank the academy, God, and my mother on behalf of the Mighty Tuna Can, which once again proved mighty last night. I was picking some friends up from a bus terminal and my friend was saying (when she called me from the bus to let me know when they'd be in) that they'd had a hard time fitting everything into the towncar that picked them up in NYC to go to the bus, and how would it all fit in my car? She later recanted, saying "The Focus Echo! Now with a black hole built into the trunk!" We wedged something like 15 bags and three people into my car, including two of the extra large rolling suitcases, one carry on size rolling suitcase, a hiking/camp style backpack, a suit-style garment bag, a duffle bag, several regular sized backpacks, two laptop bags, some pillows and a number of regular backpacks, filled beyond capacity. With most of that sitting in the trunk the car actually sat lower in the back, and the front tires were just barely on the ground (to the point the steering was off -- front wheel drive only works when the front tires are on the ground). Yay for Mighty Tuna! (I may have to finally find a nut to fit the bolt and put the mighty tuna can license plate frame my mom got me on the car, now that it has proven itself mighty on two occasions.)
posted by Amber @ 9:49 AM

Future ponderings
Thursday, August 24, 2006
I've seen this new pattern from Stitch Diva - the Simple Knitted Bodice around. And I was thinking that it was really cute. But I also have issues buying patterns from online sources (long story, ending with watching a blog flame war end with the designer calling plus sized women who used her patterns fat whores). And I looked at the Simple Knitted Bodice, and I thought, and I looked. And I read the description a few times and realized- it's just a top down raglan. Just like a certain Top Down Deep V Neck 3/4 Length Sleeve Raglan I've been working on. And I was thinking how Top Down Deep V Neck 3/4 Length Sleeve Raglan has great drape and would be a pretty nifty T-Shirt type sweater.

And so I started sketching, and I found a cute lace pattern (two actually - Chalice and Arrowhead, both have some good double decreases that would be the perfect place to put a sparkly bead). And I looked at a few mods (seed stitch around the lace panels instead of reverse stockinette, likely no waist shaping, unless I drop down a needle size just for the lace part, which I might, depending on how swatching works out for me).

And then I started thinking about yarns. I have a lot of yarn. I was thinking either 4.5 or 5 stitches/inch (probably 5, I'm on a small needle kick). The actual SKB calls for Tilli Tomas silk. Kpixie.com prices it at about $80 for the yarn, not unreasonable, I suppose. I want it to be very lightweight and sort of cool - a spring/summery sweater. I could also take this time to try something new (well Tilli yarn would be new, but differently new). Bamboo perhaps. Or Soy Silk.

I could also try and pull from my stash. I have Elsabeth Lavold Silky Wool in black - very light weight, and I know I get 5st/inch with it. I also have some Debbie Bliss Cathay in cream, which I really don't want a cream colored sweater - but I could probably find some dye that would stick to a wool/silk/cotton/acrylic blend. The smart thing is of course stash knitting, but then, new yarn. And new yarn is fun. Plus, would the pattern show up well with black yarn, considering I'm going to have to layer it? I know the EL blocks well (recommended yarn for "Branching Out" in Knitty), but I hear good things about the drape of bamboo as well. But then EL and DB from the stash I know are also machine washable.

Decisions, decisions! Anyone have strong thoughts, any which way?

(PS. The purple hoodie is making headway (hope to have the body done tomorrow night), the Top Down Deep V Neck 3/4 Length Sleeve Raglan is lounging in a basket. They're not particularly interesting to look at right now.)
posted by Amber @ 7:31 PM

Sweater Body
Wednesday, August 16, 2006
I put the Cabled Hoodie in a basket and I've been working on the top down raglan. And today - I finished the body!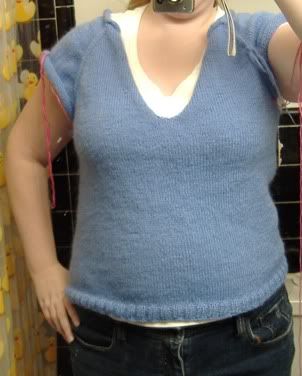 (The sleeves are on pink cotton thread)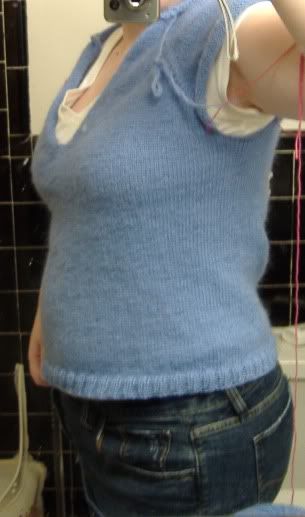 (Underarm shot, but look at how perfect the armcycle fits!)

I was feeling pretty meh about this sweater - I was really looking forward to wrapping up the body so I could go back to the Cabled Hoodie (leaving the sleeves for whenever), but now, I have this goofy renewed excitement about the Top Down Deep V Neck 3/4 Length Sleeve Raglan. (Perhaps I should call it Mindy? Muffy? Other silly name suggestions?)

The pattern is here: http://www.woolworks.org/patterns/raglan.html
posted by Amber @ 9:37 PM

I wondered why no one commented
Monday, August 14, 2006
Turns out I had comment approval verification somethingorother turned on, but I didn't give blogger the email address to email me comments! I have fixed that now.

In no particular order, responses to the comments:
Thanks!
In my mom's dresser drawer.
Indeed, but I hope not!
Hey back at you!
Yes, this is it.
I have no idea how to do that.

Select appropriate responses to your comments. :-)
posted by Amber @ 9:55 PM

Stash Enhancement
Friday, August 11, 2006
I < heart > Stitch DC. They're such enablers: Buying yarn even when on a yarn diet doesn't count if the yarn is on sale. Buying entire bags on eBay is perfectly justifiable as stash investments. It isn't knitting ADD, it's yarn separation anxiety.

The Janda will be grey, with purple sleeves and hood, and with the white stripe. A note on the pattern. The main color (body) calls for 7 skeins of yarn. The contrast color #1 (sleeves & hood) calls for 8 skeins of yarn. Doesn't that make CC1 the Main Color?
posted by Amber @ 3:43 PM

Three Things!
Thursday, August 10, 2006
First,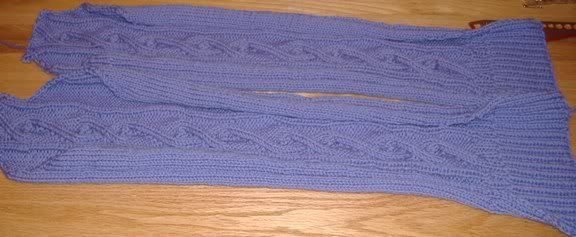 I have two sleeves! Always good to have both arms covered. Now I have the front, and the hood. Almost there! I'm thinking one side of the front will be done this weekend, and the other front by the end of the week. Maybe.

Second,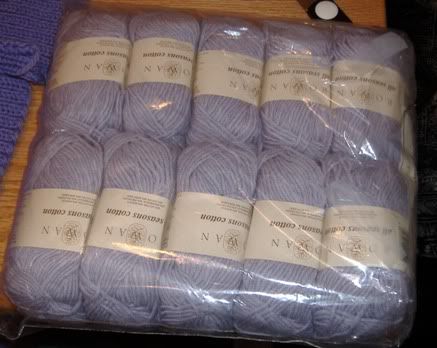 A whole bag of Rowan's All Seasons Cotton, shade 167 (discontinued if the ebay seller is to be believed). I bought it on Friday of last week, and it's already here! All the way from England! I have a couple of ideas about what I'm going to do with it. (See item 3).

Third,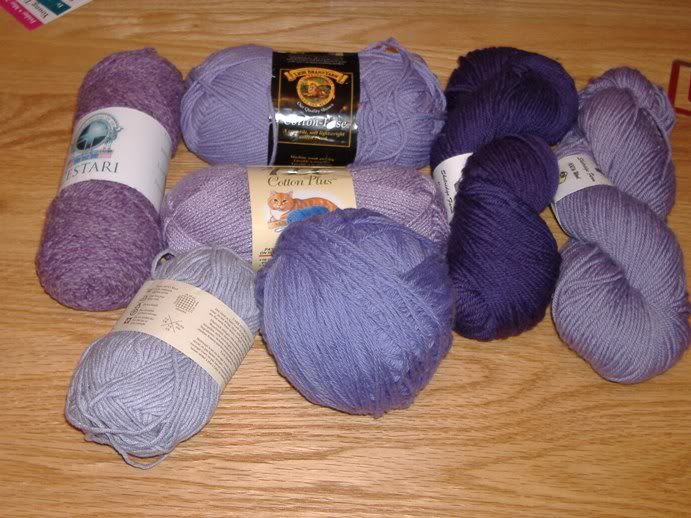 Do you think I have a problem with purple yarns? We have (left to right) - Cestari (from Maryland Sheep and Wool, but Stitch DC's Georgetown store is now stocking all the colors! Only at the Georgetown store). The Cestari is probably going to be a Samus.

Then there's Lion Cotton Ease. I only have two, and four skeins of Cotton Ease in Black, which would be just enough to make a Tricot (of course, then the four balls of black Cotton Ease couldn't become a Tubey, and I'm left with some sleeves).

Under the Cotton Ease, we have Cotton Plus. It was going to be this one lacey hooded pullover, since I saw a good one in Cotton Plus. But then I saw another one which wasn't so great looking. Will contemplate.

Under the Cotton Ease is a tiny skein of the Rowan All Season Cotton. I'm thinking of Janda. I'd have to go pick up more, but Stitch DC is having a sale this week - 40% Rowan Summer Yarns. Maybe pink for the sleeves?

The big ball is Cascade 220. In progress to being the Cabled Hoodie (above).

And then to the right is Shelridge Farms W4 (Washable, Worsted Weight, Worsted Spun, Wool). I'm thinking of making Ribby Cardi if I get over my issues with buying patterns online.
posted by Amber @ 10:01 PM

Cabled Hoodie - More lumpy sleeves
Wednesday, August 09, 2006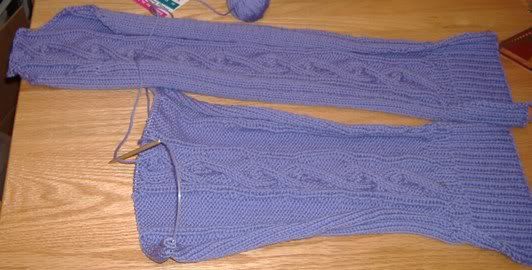 Three repeats done - I start decreases in 15 more rows, and then 30 after that. Probably finish the sleeve tomorrow, and then probably finish at least one side of the front over the weekend.
posted by Amber @ 9:58 PM

Progress!
Sunday, August 06, 2006
Despite a set back due to a spider (outside, but um, well, it was still really big) I finished the back of the Cabled Hoodie this weekend, putting me at 1/2 done!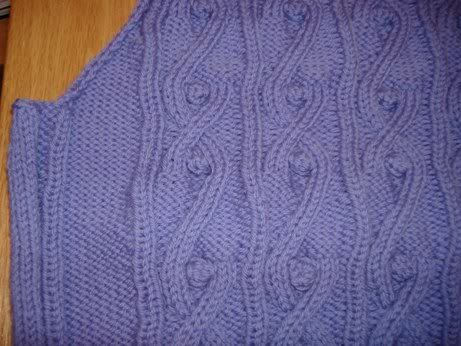 A detail of the cable pattern. I'm keeping my fingers crossed that blocking helps those bobble look better. I can't quite put it into words, but I feel like the way the cross over happens just doesn't look right. But I'm trying not to think about then until post blocking.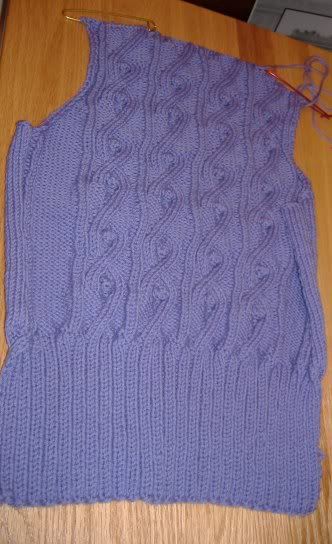 The back. The arms seem a wee bit shallow, but that could very well be a visual trick because I'm tired. There's some weird horizontal stripes going on with the way the short cable crosses over, I'm keeping my fingers crossed that blocking fixes that.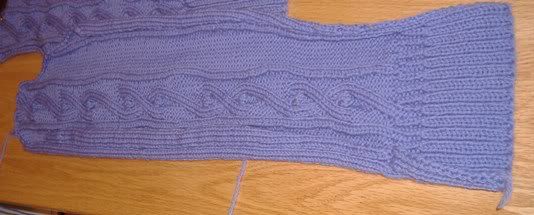 The sleeve. I did the sleeve first to get an idea how the cable worked, because I read another blog where someone was going to reverse half the cables (to make them face each other). I wanted to have a sense of how the cable worked (it makes more sense to me when they're worked out, rather than just looking at them on a page), although in the end I decided not to flip them. The sleeves are really long, and the cuff is meant to flip over (and hide that funny looking part with the one inch right below the cables. They really could have worked out those decreases in a better way, if you asked me.)
posted by Amber @ 10:22 PM

FO: Sari Silk Pillows!
Tuesday, August 01, 2006



Specs
Pattern: Not a pattern, exactly. I got the idea from Scarfomatic, but carried out the idea a bit differently. Basically, take four mitered squares, each with a base of 48 stitches, and sew them together.
Yarn: Three balls of Recycled Sari Silk from GearThatGives.com.
Needles: Addi Turbos, Size 9
Other supplies: Three 14" squares of fabric (pillow backs) and three 14" store bought pillow forms.
Notes:My friend gave me the yarn as a gift, and I've been waiting for just the right project. It was too scratchy to be a scarf or hat, I don't wear ponchos or shawls. There was a lot of random bits in the yarn - hay, string, a fingernail, lots of dirt (had to wash three times before the water stopped turning all muddy), so I didn't want to have to buy more of it.

The color varried so much between balls that rather than pick up stitches to knit the whole pillow together (like ScarfOMatic) I knit squares individually, and then arranged them in color combinations I liked, and sewed them together. To get the maximum number of matching pillows, I found some fabric I liked to use as the back of the pillows: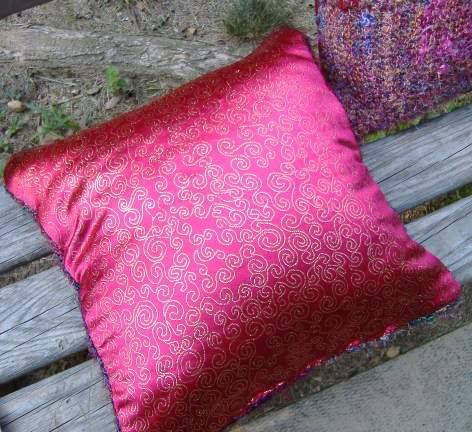 And yes, the fabric has gold tissue lamé woven in to create the design. I'm now doomed to another flare up of GLD (Gold Lung Disease) and 3 more years of gold lamé showing up in random places (probably more since I'm keeping it around, as opposed to the pants of gold lamé that I threw out).

Back to the pillows - I my mom used my sewing machine to sew the backing to the front. This is not for the weak sewing machine! The machine stalled several times and the needle is a wee bit bent now. Also, bits of the silk kept getting caught on the foot that feeds the fabric through, and we had to stop and snip it free several times on each pillow.

Overall the knitting was fast (maybe an hour and a half per square), but I wouldn't do it again. I got about one pillow per ball, so with a set of three balls I got a nice number of matching pillows. But I still wouldn't do it again. The yarn was a pain to work with (very stiff, and the stuff in it), and after seeing all the rave reviews of sari silk, I just don't get why people are happy when they win 20+ skeins on eBay.

A final close up: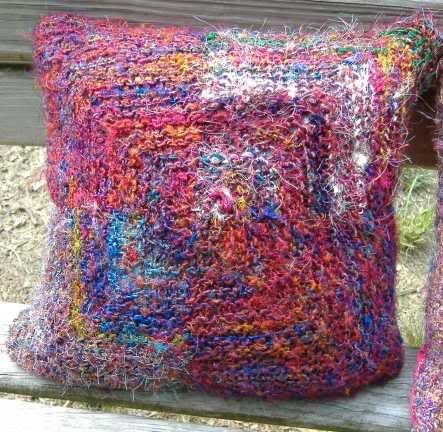 See all Sari Silk Pillow Posts
posted by Amber @ 5:37 PM