May Knit Goals!
I'm prone to being a scatterbrain, so I try to make a short list of things to accomplish each month (lest I have 27 different non matching socks).
No throwing books during finals - Sucess!
Finish Yarrow Rib #2
Start (finish?) Entrelac Socks
Start Eunny's Vest, Ribbi Cardi #2
Work on Dumb Scarf
On the Sticks
K1, YO, K2Tog Scarf
Yarrow Ribbed Sock
Rogue
Raglan with lace panel sleeves
Ribbi Cardi #2 (black/purple)
Sweater-A-Month 2007
Picovoli: Cathay - Needs blocking
Cabled Hoodie: Cascade 220 - Needs seams
Urban Aran
Durrow - Done!
KnitPicks' Kimono Sweater: Silky Wool
[Sort of] Samus: Chester Farms 2-ply worsted - Some seaming and a whole lot of i-cord left
Ruffli Cardi
Top Down Raglan: Nashua Creative Focus Worsted - Needs blocked
Tricot: Ella Rae Classic (?)
Janda: Rowan All Seasons Cotton (gray/lavender/white) - Done!
Tubesque: Noro Garden + ???
Springfield (Cabley Twisty Rib Raglan): Cotton Plus
CeCe: ??
Lucy in the Sky: Shelridge Farms W4 (pink lemonade)
Rogue: Handspun
Shawl Collar Cardigan: Kathmandu Aran Tweed - Done!
Elizabeth Zimmermann's Bog Jacket
Ribbi Cardi: Cotton Ease (Black/Purple)
Ribbi Cardi: Cotton Ease (Blue/White)
Simple Knitted Bodice: Silky Wool?
Be a joiner!
An Unused Box!
Something should go here.
August Knit Goals
Monday, July 31, 2006
July Goals

Finish Durrow, including seaming. - Sort of done - finished the knitting, haven't done the seaming


Finish grey socks from Knitting Vintage Socks - Not done - frogged.


Start one new sweater. Not confining myself to which sweater, but one of them. - Done - Started two sweaters, am not close to finishing either


Use at least one yarn from stash for a small project. Hat? Knucks? Not done. Added to the stash by way of sock class (disliked the artyarns for socks, decided to make a hat instead).


August Goals

Finish Nashua sweater


Finish (not including seams) Cabled Hoodie


Get a pair of socks past the toe to have to carry around campus (classes start 8/29!)
posted by Amber @ 3:37 PM

Fall 2006 Interweave
Friday, July 28, 2006
Interweave came! Interweave came! Interweave came!

Silken Spencer - I think the detailing at the hem, cuffs, and neck is really pretty, and usually I'm not a fan of embroidery-on-knits. However, I don't own any empire waist dresses (I can look pregnant without wearing anything special), so the back would need at least 8 more inches before arm hole shaping before I could get close to it.

Bianca's Jacket - I think the construction is pretty interesting, but the lace pattern doesn't really do it for me. It would also need about 6 more inches in the body. Looking at the main picture, I can't help but wonder if it wouldn't be strangely flappy in the back (I made Otis, from Knitty, a while back, and it was about this long, and it was super flappy in the back, just for the short distance between my shoulder blades and the end of the sweater. But Otis had a tie, whereas this one doesn't and it even looks flappy in the picture.

Portland Pullover - Portland, Maine. Not Oregon. We don't support the fugly in Oregon. First off, the sleeves are rectangles (?!) and sewn in at an angle, rather than do angled sleeves (like a raglan). Second, the neck goes up as a tube without any shaping. If you've never made a sweater, a word of caution: If you make the front and back necklines the same height on a sweater, you'll choke yourself, because of the way the human neck is shaped. You can even see how they had to pull it down on the model, and there's a funny looking roll of fabric right under the mock turtleneck. Also, what did that poor girl do to the photographer? She clearly did something very bad to deserve that hat.

Gatsby Girl Pullover - I love Jodi more than I should love a person on the internet I've never met. I just love her sweaters so much. But this is one I think I'll be passing on. The yoke is too busy for my tastes. I love the braids and ribs on the lower half of the body, I love the sleeves, and I even like the buttons on the shoulder. But the way the yoke lace cuts off it visually pushes the model's breasts down toward her waist, and no one wants to look like they have saggy breasts. I do love the waist shaping, and I might consider doing the sweater with just the braids/ribs, all over. And it calls for Cashsoft DK. I < heart > Cashsoft.

Western Point Skirt - Seriously, what did the red head do to deserve this? It does not look like vintage neckties sewn together (and even if it did, why would you want a skirt made out of ties?), it just looks like elongated triangles Incidentally, I wonder if it would look better with a yarn that was more consistent (it calls for ribbon yarns held together), still silky (debbie bliss pure silk? Alchemy bamboo?) Also if the model wasn't wearing those hideous boots or that giant belt it might do a lot for the overall image.

Santa Fe Satchel - I'm not a fan of knitted bags, but I like the adjustable strap. If I were going for "Navajo rug" I probably wouldn't have used blues. (Actually if I were really going for Navajo Rug, I'd learn to weave, but that's a different issue).

Equinox Yoke Pullover - Sleeve color work is done flat? Oh hells no. Not when it's easy enough to do it circularly. Also, I think the colors and pattern are too busy at the yoke. I do really like the rolled hem, but I'm not such a fan of the neckline, but then I always wear a shirt under my sweaters, and a shirt color would look funny under the boatneck top.

Northern Lights Jacket - Ohh, now this would be a use for glow in the dark yarn. Can't you just imagine walking somewhere at night with Giant Freaky Owl Face glowing on your chest?

Saffron Cables - Why on earth would you want to knit an adult sized blanket at FOUR STITCHES PER INCH?

Wanderlust Hoodie - Seeing the large picture of it, I think I take it back. Not a fan of the seed stitch filled diamonds across the body, the bobbles the base of the leaf motif, or the seed stitch cuffs. I do like the subtle waist shaping, and the hood. But definately not something I need 23 balls of Aurora Bulky to make right away.

Swallowtail Shawl - It's nice, but doesn't seem so different from that one from Fibertrends everyone is always making.

Coral Crossing - Normally I like cables that come out of ribs (and go back into ribs - clever!), but I think it's the pockets that turn me off this sweater. Which is strange because I like pockets, and want to figure out how to incorporate them into more sweaters. I think without pockets and if the cables started more like an inch or two above the hem, instead of 4-5 inches above it could be a nice sweater.

Glasgow Lace - We're getting better - I'd only add 2-3 inches to this sweater before considering it wearable. I actually really like it, although I feel it needs a shirt under it (not a camisole), but I don't think very many shirts would work with that neckline. But I really like the hem (shell stitch, may have to investigate use of this elsewhere), and I really like the length of the sleeves.

Supernova Pullover - Grumperina knit one of Norah Gaughan's sweaters, and really enjoyed the unique construction with the hexagons. I'm not feeling the love, but I can't put my finger on why.

Father and Son Socks - Understated. I like that in a sock. I bet they'd look great with wee seed beads on the purl stitches.

Staff Project - Give me a handbag! - I don't usually carry a handbag, just my messanger bag (lately a sling backpack), so it isn't particularly useful to me. Number 5 ("Retrostripe" - linked) looks like a bat. You could do it in black and orange, make it just a bit bigger, and give it to a kid for a Halloween candy bag.

Spartan Pullover - I like, but. I'm strangely a fan of mens sweaters, I don't know why, maybe because there's less frills than in a lot of women's sweaters? But I'd be worried about the placement of the design drawing the eye down, and making me look extra chunky around the middle. Plus I dislike the drop shoulders. Maybe with raglan sleeves and a wee bit of waist shaping it could be better for a girl.

Breton Jacket - It reminds me of that Debbie Bliss cardigan. But with a cable. I like how the cable is also reflected on the sleeve, but I dislike the belt. It needs a snap or a good pin.

Target Wave Mittens - I'd do a smaller gauge (calls for 5st/inch), but otherwise I think those are adorable mittens, for anyone.

Weekend Pullover - Veronik Avery is going to be at the Stitch DC booth at some event coming up soon. They're very excited. But Veronik aside, I like the shaping, and that the bottom hem on the side has a small vent, but I dislike the cable/rib going on at that edge, and I wish the pattern continued around the side - it just seems so busy having the lace, the regular cable and then the funny cable/rib, and a different rib on the sleeve. And remember what I said earlier about the shape of the neck - this pattern is doing that funny roll thing right at the collarbone as well. Why? Why?!

Sienna Cardigan - Cute, in a basic sort of way. It hangs funny at the side - it's like there's too much fabric for this model (in pictures where she's sitting and where she's standing). I like the collar, but I wonder if it would be prone to flipping up and not being quite so good looking. And the way the button band gaps bothers me - I wonder if it could be fixed with better blocking?

Little Majolica - Bad fair isle! Bad! No cookie for you. There's bright colors, and then there's clashing colors. Why can't these designers pick a better color scheme? I've seen Julia (the yarn specified) it comes in some lovely colors, so why on earth this eye searing combo?
posted by Amber @ 11:04 AM

knit-mojo come back!
Friday, July 21, 2006
Last night I seriously screwed up my Miranda Pattern socks, and ripped them back out. Tried to cast on for some ribbed socks. Screwed up, ripped out. Apparently it was not my night for an actual sock.

I did turn the heal on my artyarns toe-up sock in class, and get almost to the cuff.

Other projects have been slow going. I finished the first ball of yarn for the top down raglan - still haven't gotten to the knitting in the round part. I'm around 6.5 inches on the raglan (of 10"). So slow. I'm reconsidering waist shaping all together, and I think I might just leave it for when (if) I make a Picovoli.

The cabled hoodie (found the pattern) hasn't been touched all week - the sleeve is still at 11 inches. But at least now I've got a good idea about how the cables work and how to reverse them. I've read about un-venting a cable, but it clicks with me when I finally just sit down and work it out.
posted by Amber @ 10:14 AM

Summer 2006 Knitty
Tuesday, July 18, 2006
Since I now have proof someone likes my yarnarific reviews...

Fetching - These are mittens. Not gloves. Gloves have individual finger compartments and mittens do not. That aside, seeing that these don't really have wrist ribbing I have to wonder about their long term ability to stay up. Maybe if it was a 4x2 rib instead of 4x1? But I am glad to see that they have a real thumb, and not just a slit for the thumb - that looks so unfinished. My friend Amber just finished a pair of these last night and they are really cute when done. I'm just not sure about their functional-ness.

Carpathia - I really liked these, until I saw photos of a finished pair. By the time you block them well enough to show the lace, they're enormous, but if you don't block them they look bad. Also, maybe it's just because the temperature is so quick to change from swelteringly hot to frostbite inducing cold, but lace gloves seem really impractical. They aren't as nice as traditional white lace gloves (you always wear gloves when you shake a man's hand because you don't know where his hand has been traditional), and they'd be too warm to wear in summer, and too cold to wear in winter. And really, they're too open to keep your hands clean from subway grime.

Perdita - I'll be honest, I don't see the point of knit jewelry. Various metals just seem cleaner and prettier. Plus, the buttons seem like they'd constantly be poking you in the wrist if you tried to rest your wrist on something (like while typing). I think a bit of ribbing on the backside would make it better (although then there's the issue of the seam, I'm sure there's a good flat seam I'm just not particularly aware of. Perhaps provovisional cast-on and then grafting...)

Muff - As a stashbuster, I see this as a great idea. I don't find it practical (and even when I used to walk to work in the winters, I still wouldn't have found it practical) because I feel like you really need your hands when walking (pushing the sign for the crosswalk, getting out keys, pulling open doors, turning handles). You need your hands even more when driving. I suppose for a passenger in a car? Thrummed mittens just seem like a better idea.

Knucks - Although I know they're really as functional as fingerless mittens, I love fingerless gloves so much more. I haven't made finger-down gloves before, and they look like they could be interesting.

Reptilian Lace - I think it would look 100% better in a solid yarn - the stripes muddy up the lace pattern and I didn't even realize there were beads in there at first - if you're going to go through the effort of adding beads to your knitting, don't you want it to show? Also, I'd really like another view to see how (if) the pattern repeats around the leg, and how the heel looks.

RPM - Another one I think should be shown in solid color. I know the designer thinks the pattern is good for multicolored handpaints, and it is better than Reptilian Lace, but its making me dizzy. But maybe that's the point. I like that there's a version that's stockinette on the sole of the foot, and that she offers a short row heel and regular flap/gusset combo (even though her short rows could use some help, if you YO backwards on the purl side it will take care of those holes).

Widdershins - First, someone else told me the magic of this pattern is the whole gusset while working toe-up thing. Which Baudelaire uses as well, making this pattern basically just a tutorial for Baudelaire, even though that pattern has perfectly good instructions on working toe-up with a gusset. Also, I think short row heels are prettier, so this pattern is pretty pointless in my opinion.

Baudelaire - Know how I just said I prefer short row heels? All except here, because I think it's so cute how the line from the stockinette portion of the sole of the foot, and the line of the heel flap come together at the ankle and twist into a cable. A+ for Cookie! Even without that wee detail I think the lace pattern is really pretty, and I look forward to finding a good solid color yarn to make these.

Lickety Split - I think there's a conspiracy at Knitty - they show hip looking 20 and 30 somethings for designer photos, but I think they're secretly old men living in Florida. Who else wears socks with sandals? Or maybe people are really looking to Kevin Federline for fashion tips. Either way, they need to stop. (Yes, I know they're based on the traditional Japanese tabi socks. But I have a feeling that maybe .5% of people who make these will pair them with a kimono. The rest are going to emulate KFed and wear them with flip flops and it will be an abomination of the Holy Wool.)

Dancing Lady - I think they might look better in solid colors (real solids), and with the base being dark and the dancing lady being bright. The bright on bright-variegated is kind of painful. However, I do like the blue yarn (which the designer handpaints herself, and I think when the stash has been thinned I might buy some - Island Flower looks pretty, and I know someone who would like Tequila Sunrise. If it's superwash, anyway.)

Tulip Toes - Oh! So Cute! So Impractical (I mean, lots be honest, you have to tie them so tight that you cut off circulation, or else they're going to come right off), but so cute. I think if I were to make these I'd thread elastic through the eyelets and then tack the bow on as a purely decorative feature. Or possibly use the i-cord like casing, put the elastic in that, and again just make the bow a decorative feature. Or else find a way to hide the elastic within the bootie. It's just that using i-cord for a drawstring on baby clothes seems pointless - a quick tug and the bootie will bloom and fall off.

Lacanau - First, that's a crime against silk! Second, there are many a cute flip flop out there. You don't need to knit a shoe!

Halfdome - I would like this more if it was knit in the round. I love the look of the decreases, but don't see the point in seaming a hat when it's so easy to knit in the round. It would be like knitting a sock flat.

Maze - Not related to the pattern, but the designer looks so cute in her picture! Also, there's a guy in that first picture? Really? Anyway. Pattern, not people: I'm not sure this would stay on my head, but I like the wee roll on the side. The shaping on the crown is a little obvious for my tastes, but maybe I'm just not mod-enough for this pattern.

Crosspatch - I find it interesting that two people can write a pattern for a hat, being influenced by Barbara Walker books, and one is so much prettier than the other. I mean, I'm not mod-enough to pull off Maze, but it's so much prettier than this one. Maybe the lack of contrast between the brown and black hurts it, maybe it's the garter stitch-mosaic pattern (in the round - eesh!), maybe it's the alpaca content in the yarn (I'm working on a sweater in Creative Focus Worsted, and the alpaca gives it a major halo), but the pattern just doesn't inspire me.

Sock Monkey - The designer claims you love or hate sock monkeys. I'm neither. But I'll remember this pattern if I find someone who does love the monkey. Although, I hear the real monkey doesn't wear a hat.

Klein Bottle - I've heard it isn't really a Klein Bottle. Personally, I don't care. Someone tells me this is really a Klein Bottle. I still don't care.

Swell - There's a line just below the part where the waves start, and it bothers me. Also, check out the gauge - 4.1 st/inch on size 5 needles, with cascade 220. I get 4 st/inch on size 8s. But I do like the way it swirls together at the top.

Julie - Wow. Something that makes Perdita look useful and pretty. Jordana - please, make cute sweaters and handbags. There's no need to go all crazy and come up with things like this just to get your name out there. We've all seen your bags, and really, they're lovely. This isn't helping your cause! And if you must put these things out there, find another friend to model for you. This friend looks like the "necklace" might snap her neck at any moment. It dwarfs her, and that just shouldn't be.

Manresa - I'm glad GW girls don't knit. If they did, they would take this as a sign that you should really be wearing flip flops in December. When really, if it's cold enough for leg warmers, it's cold enough for socks and shoes. Unless you're a ballerina, in a studio. But like the tabi socks above, most people knitting these won't be ballerinas in studios.

Allete - In 7th grade we studied Greek mythology in Language Arts/Social Studies class. I did a presentation on Hermes, and we had extra points if we dressed up as our god/goddess of choice. The wings my mom and I made were about a hundred times better. No, they weren't knit, but sometimes things don't need to be knit, and are better when they aren't knit. But I'm sure someone, somewhere, has a 5 year old who will think these are the best things ever.

Lilies - I like fresh cut flowers myself, but I know other people don't. And sure, I've crocheted a fair number of pansies and daffodils myself, but they just don't really come close. I like keeping flowers small, and putting them on something (like my backpack) as opposed to stand-alones. I guess they aren't my cup of tea, but other people might really like them.

(How on earth can I find 4 pages worth to write about?!)
posted by Amber @ 7:12 PM

Do you know what time it is?
Wednesday, July 12, 2006
It's Seam Time! With special guest, Durrow!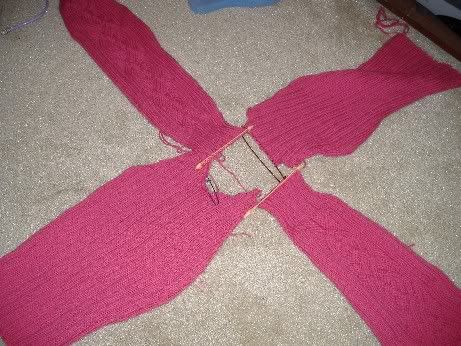 posted by Amber @ 9:25 PM

So. Sick. Of. Cables.
Monday, July 10, 2006
Durrow, the never ending cable! Beautiful (and it inspires me to try and chart my own cables), but I'm beginning to crave some stockinette!

I think for my next sweater (although I try not to hold myself to anything until I cast on) I'm going to try a top down raglan, with a deep v-neck, and 3/4 length sleeves. I have 1100 yards of Nashua Creative Focus Worsted, so I think I have enough (yay for sales - $30 total!). Nothing special about it, really, although it doesn't seem like a next-to-the-skin yarn, and if I recall correctly it's a single ply, making it prone to pilling, so I may have to go with a tighter than normal gauge). I might try to do some waist shaping, just to make for a prettier, more fitted sweater, but that's about it for details. I'm not sure – rolled edge or slightly ribbed? I like rolled (my three favorite sweaters have rolling edges), but think ribbed would work better with the 3/4 sleeves. Hmm.

I think I'm going to use The Incredible Custom Fit Raglan Generator, combined with NonaKnits: Shaping Up (a guide to darts) to generally guide the sweater, I've heard good things about the Incredible Raglan, and seen it with some mods as a good standby pattern.

(Have I mentioned my love of blogs lately? I found those sari silk pillows in a blog, waist shaping guides, and I'm sure that one of these days when I'm sitting around going "What do I do with..." or "How do I make..." the blogs will come to the rescue.)

Also, the Fall Interweave Knits Preview is up. When I'm not sick of cables, I can't wait to make Wanderlust Hoodie.
posted by Amber @ 9:32 AM

Knitting Goals - July
Thursday, July 06, 2006
June Knitting Goals Wrap Up
Finish Sitcom Chic -- Done! Alas, no good pictures, yet.
Finish toe on second Hedera -- Done! I have reasonable pictures, just haven't posted them yet. Bad blogger! But I don't have any good notes or mods, so it didn't seem like the blog world was lacking. They ended up fitting my mom much better, so they were a gift to her. Even though she doesn't like knit socks.
Finish Tubey - Not done. Still can't bring myself to knit a giant tube.
Start Mitered Square Pillow with Sari Silk - Done! - I finished the knitting, but not the sewing part.
Finish hat pattern - Kind of? - I finished the hat this past weekend, but I'm not loving the way the hat tapers, and I might redo the crown.
Swatch for the KnitPicks Kimono Sweater with Silky Wool – Sort of. - I found my old swatch, and put it in a very safe place. I started looking for it the other day, and haven't found it yet. But that's okay, since I started Durrow from MagKnits instead.
New July Goals
Finish Durrow, including seaming.
Finish grey socks from Knitting Vintage Socks
Start one new sweater. Not confining myself to which sweater, but one of them.
Use at least one yarn from stash for a small project. Hat? Knucks?
posted by Amber @ 9:10 PM

Pillows - Done Knitting!
While in NYC it wasn't all fun and games ... actually it was, and much knitting was accomplished. I finished the final two squares on my sari silk pillows! They aren't sewn together yet, or backed/lined, but I think in the end they go together pretty well.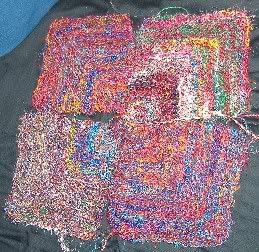 The first square, that was such a different color from the rest of the yarn in the ball, is in the upper right hand corner. I could get one more square from my leftovers and that square would have more blue in it, but I think it works fine.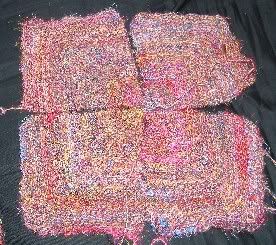 The pink squares! Why couldn't I have three pink pillows?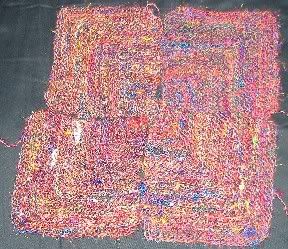 This pillow brings the other two together, pinks, reds, and some blues thrown in.

Now I have to sew the squares together, get some fabric for the back of the pillow, and add a pillow. I think I'm going to look for a Pillow form tomorrow after work, along with the fabric for the backing. Easier than sewing and stuffing my own pillow.
posted by Amber @ 8:37 PM