May Knit Goals!
I'm prone to being a scatterbrain, so I try to make a short list of things to accomplish each month (lest I have 27 different non matching socks).
No throwing books during finals - Sucess!
Finish Yarrow Rib #2
Start (finish?) Entrelac Socks
Start Eunny's Vest, Ribbi Cardi #2
Work on Dumb Scarf
On the Sticks
K1, YO, K2Tog Scarf
Yarrow Ribbed Sock
Rogue
Raglan with lace panel sleeves
Ribbi Cardi #2 (black/purple)
Sweater-A-Month 2007
Picovoli: Cathay - Needs blocking
Cabled Hoodie: Cascade 220 - Needs seams
Urban Aran
Durrow - Done!
KnitPicks' Kimono Sweater: Silky Wool
[Sort of] Samus: Chester Farms 2-ply worsted - Some seaming and a whole lot of i-cord left
Ruffli Cardi
Top Down Raglan: Nashua Creative Focus Worsted - Needs blocked
Tricot: Ella Rae Classic (?)
Janda: Rowan All Seasons Cotton (gray/lavender/white) - Done!
Tubesque: Noro Garden + ???
Springfield (Cabley Twisty Rib Raglan): Cotton Plus
CeCe: ??
Lucy in the Sky: Shelridge Farms W4 (pink lemonade)
Rogue: Handspun
Shawl Collar Cardigan: Kathmandu Aran Tweed - Done!
Elizabeth Zimmermann's Bog Jacket
Ribbi Cardi: Cotton Ease (Black/Purple)
Ribbi Cardi: Cotton Ease (Blue/White)
Simple Knitted Bodice: Silky Wool?
Be a joiner!
An Unused Box!
Something should go here.
Durrow - Sleevey Goodness
Wednesday, June 21, 2006
So I figured out why I've been falling asleep on the couch every night at like, 8 PM.

I haven't had coffee after noon in like 3 weeks (since I went to NYC, pretty much).

Today after work I went to Starbucks to work on Durrow. I'm now tired of knitting, and bouncing off the walls.

Speaking of Durrow...





I screwed up the way the cables cross in the 3rd repeat, but I think I can use yarnharlot's duplicate stitch method to fix them. I will pay more attention to which way the cable crosses for the rest of the sweater!


Also, a man came up to me and was telling me about how when he was growing up everyone, boys and girls, learned to crochet. He mentioned a lot of people think it's odd for a man to crochet in the US. I said, no, it was pretty cool. Anyway. Then he says to me:
Guy: Where is a good yarn store around here?
Me: Well, in Virginia there's Knit Happens, in Old Town Alexandria. And my favorite is Stitch DC, there's one in Georgetown.
Guy: Do they sell Red Heart? I really like Red Heart.
Me: Well, in that case you might really like the AC Moore over in Bailey's Crossroads...
Guy: Great! Thanks!

Call me a yarn snob, but I think "Good yarn store" and "Sells Red Heart" are mutually exclusive events.
posted by Amber @ 9:48 PM

Another Start
Tuesday, June 13, 2006
I love starting new projects. Finishing is great, too, but starting rocks. I don't know why, I joke a lot about knitting ADD, and I talk to other people about feeling all the different fibers and how great it is to try new things, but I'm not sure that sums it all up. I guess I feel like I'm making a dent in my giant closet-o-doom (that photo really, really needs to be updated. One of these days, between new projects), because a dent in the closet-o-doom means there's room for new yarn. Maybe I just secretly hate committment.

I was on vacation last week. I finished four squares of my recycled silk pillow (the silk pillow plan deserves a post of it's own - tomorrow, when I unpack). I think I can get five squares/ball - 15 squares total. It takes 4 squares to make a pillow, so I'll be one short on 4 pillows. Maybe I'll be lucky, and get 5.5 squares/ball.

I also started Durrow, for myself. I'm making the smallest size and so far it's looking like it should work fine. The body is done in 4x2 rib all over, and I think it will cling nicely, without all that pesky waist shaping that never fits my waist. I'm using Cascade 220 in a color best described as coral. Cascade describes it as 7805, but I think Coral works better. I'm halfway through the decreases for the armholes in the back, and kind of wishing the sweater were done in the round (I know I bitched about that with Sitcom Chic, saying it was never ending, but seams -- bah!). Today's Tuesday, so the back will be done tomorrow; the front by the weekend, and I should be able to start the interesting and pretty part (the cables) on Monday at knitting group. I think I'm going to wrangle yarn, and do both arms at once. I picked up the yarn while on vacation: if it never goes in the yarn closet, is it really ever in the stash?

I'm not sure what comes next. Maybe four more silk squares (they're really hard on the hands), or maybe a pair of socks. I picked up Nancy Bush's "Knitting Vintage Socks" last week, and there's a pair with diamonds (sort of a textured argyle style) that I'd like to make with my new gray koigu. I'd planned to make Knitpicks' Kimono Style Sweater my next sweater, so maybe I'll start that one. Or finish Tubey. I was going to do that this month, wasn't I?
posted by Amber @ 10:56 PM

Sari Silk Cushions! Brilliant!
Wednesday, June 07, 2006
http://scarfomatic.typepad.com/scarfomatic/2005/09/sari_silk_cushi.html

I have 3 balls of sari silk -- too heavy and scratchy to be scarves (although the silk+strand of wool makes a VERY WARM hat) or mittens, but I think just right for accent pillows on the futon.

I knew someone else would come up with the perfect pattern first!

~ ~ ~
Square 1/8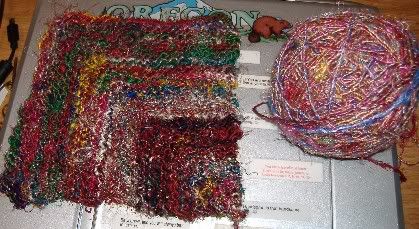 posted by Amber @ 1:34 PM

99.99% completed sweater!
Left: Sewing some ribbon the edge to stabilize and reduce curling. Adding my pretty button.

Until then, I'm going to happily sit around my house in my pretty (though unblocked) sweater. Quite possibly, the new most perfect sweater I own.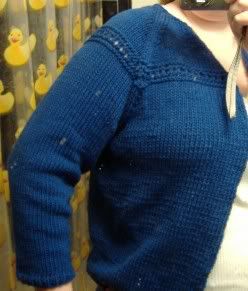 posted by Amber @ 10:38 AM

Sitcom Chic Progress
Monday, June 05, 2006
This has been my least photographed project ever, I think. Of course, I'm trying to fit 40 inches of sweater onto 29 inches of needle, so I can't really lay it out flat for photography sessions. On the bright side -- I'm within a day or two of finishing! I have 30 rows left to go, all of which get smaller and smaller.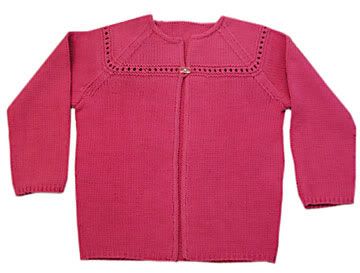 I'm just about to do the eyelet row. Very exciting that I should have it done by this weekend, which means I can (hopefully) replace my gray hoodie sweatshirt with a prettier sweater (just to cut the A/C chill).


In other news, I have a cold. Which is sad mostly because I wanted to go to knitting group tonight - I'll be out of town next week and I was gone last week, and I miss seeing what people are doing. But I'm sure no one wants my germs, and I'm not sure I could stay awake that long anyway.
posted by Amber @ 12:59 PM

June Knitting Goals
Friday, June 02, 2006
I'm a very goal oriented person - I like to have tick boxes and lists that I can cross off as I finish things. So in a way, it's surprising I haven't started mimicking Jessimuhka earlier with knit goals every month. Here are my June plans:


Finish Sitcom Chic


Finish toe on second Hedera


Finish Tubey


Start Mitered Square Pillow with Sari Silk


Finish hat pattern


Swatch for the KnitPicks Kimono Sweater with Silky Wool
posted by Amber @ 8:35 AM