May Knit Goals!
I'm prone to being a scatterbrain, so I try to make a short list of things to accomplish each month (lest I have 27 different non matching socks).
No throwing books during finals - Sucess!
Finish Yarrow Rib #2
Start (finish?) Entrelac Socks
Start Eunny's Vest, Ribbi Cardi #2
Work on Dumb Scarf
On the Sticks
K1, YO, K2Tog Scarf
Yarrow Ribbed Sock
Rogue
Raglan with lace panel sleeves
Ribbi Cardi #2 (black/purple)
Sweater-A-Month 2007
Picovoli: Cathay - Needs blocking
Cabled Hoodie: Cascade 220 - Needs seams
Urban Aran
Durrow - Done!
KnitPicks' Kimono Sweater: Silky Wool
[Sort of] Samus: Chester Farms 2-ply worsted - Some seaming and a whole lot of i-cord left
Ruffli Cardi
Top Down Raglan: Nashua Creative Focus Worsted - Needs blocked
Tricot: Ella Rae Classic (?)
Janda: Rowan All Seasons Cotton (gray/lavender/white) - Done!
Tubesque: Noro Garden + ???
Springfield (Cabley Twisty Rib Raglan): Cotton Plus
CeCe: ??
Lucy in the Sky: Shelridge Farms W4 (pink lemonade)
Rogue: Handspun
Shawl Collar Cardigan: Kathmandu Aran Tweed - Done!
Elizabeth Zimmermann's Bog Jacket
Ribbi Cardi: Cotton Ease (Black/Purple)
Ribbi Cardi: Cotton Ease (Blue/White)
Simple Knitted Bodice: Silky Wool?
Be a joiner!
An Unused Box!
Something should go here.
Moved!!
Sunday, May 20, 2007
Well, google accounts went and screwed up my blogger account, so I decided to take my toys and go home. well, wordpress anyway:


Update your links!
posted by Amber @ 8:11 PM

Sheep! And Wool! And Wool! And Sheep!
Sunday, May 06, 2007
Maryland Sheep and Wool 2007 rocked! No migraine and no sunburn this year! (Alas, no lamburger, which was sad.)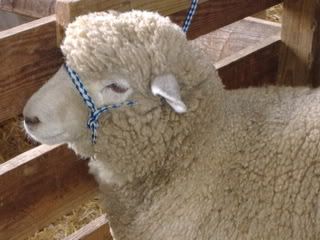 There were sheep.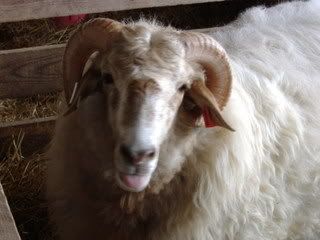 Rams(?)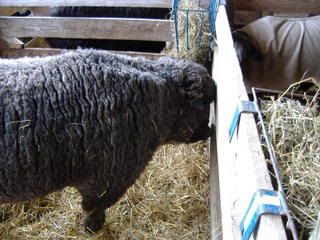 Even the sheep think they're tastey!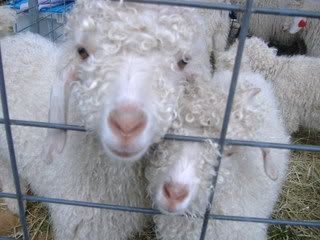 Goats!

The Haul: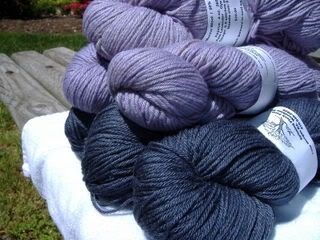 Spinning Flock Farm (Woodbine, MD)
50/50 Merino/Tussah Silk in Charcoal and Pale Lavender for Deep V Argyle Vest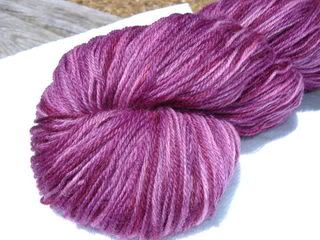 The Flock Bransonas
75/25 Wool/nylon sock yarn in "Rhapsody"



More Flock Bransonas Sock
"Esmerelda"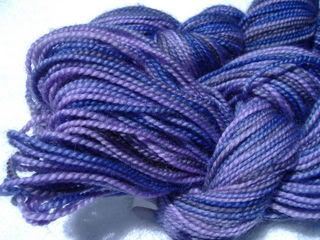 The Mannings
Koigu, #305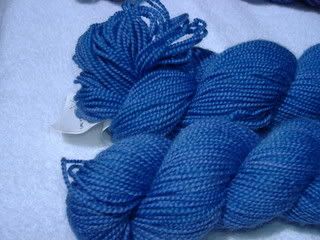 More Mannings
Koigu, # 1008

While at the Mannings booth there was a woman standing next to me, and someone went pushing behind us, and pushed the woman into the big wall of koigu. She made a "hrmph" noise and glared at the pusher (because really, it's MDS&W, there's no call for shoving!) and I said "Well, there are worse things to be shoved into, I suppose." The woman stepped back, and realized she'd been pushed into a big wall of koigu and agreed it could be worse.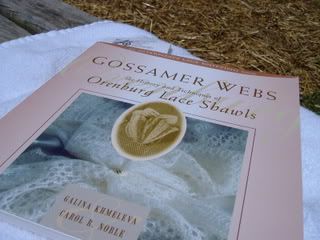 I got a little light headed at the Mannings
"Gossamer Webs" - History and Construction of Orenburg Lace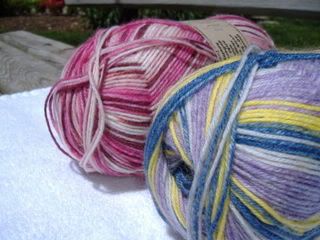 Carodan Farm, Stanardsville, VA
Opal Rainforest Collection in Fish & Flamingo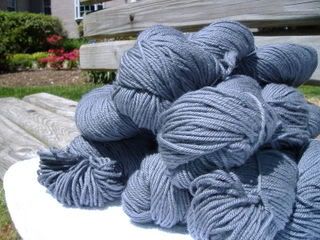 Shelridge Farms, Durham, Canada
6 balls of W4 in silver. Incidentally, all of my friends got some too, after I raved about it so much.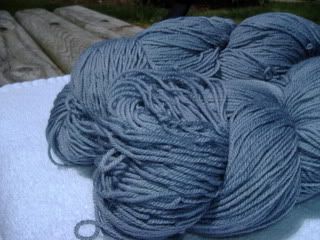 Tess' Designer Yarns
Super Sock? Pewter perhaps? Mine didn't have a label.
posted by Amber @ 12:31 PM

FO: Pomatomus
Tuesday, May 01, 2007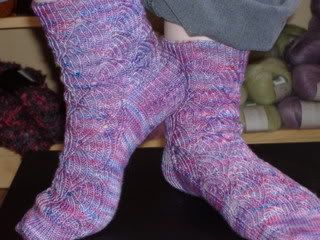 Photo by Jess at Stitch DC!

Pattern: Pomatomus by Cookie A, via Knitty
Yarn: Koigu KPPPM (color 200, I think, but the ball band has been lost to time)
Needles: Size 0. Two circulars for the leg and the foot, double points for the gusset (it was so pretty, I couldn't not do the heel flap, even though I normally sub in a short row heel).
Mods: Only did two leg repeats – the koigu has less yardage than the Shelridge, and since I couldn't remember which color it was, I didn't want to risk running out.
Notes: Love, love, love these! (Incidentally, check out Tristan Prettyman's song "Love, Love, Love" (third song on the list)). I totally disregarded the weather forecast today (80 degrees), and wore them anyway. And during the photo shoot, Maggie Sefton of the Knitting Mysteries Series popped in, and she loved them too! So much so, that she said she was going to call Knitty and find out about possibly including them in her next book!

Super big detail shot

Next up: I'm going to start the second yarrow rib sock. And next Thursday, I'm totally starting the entrelac socks. I found some great Claudia Handpaint in "Just Plum" that I'm going to use instead of "Pink Posey." They're going to be my end-of-finals treat. Along with another Ribbi Cardi.

Boy, I'm talkative lately!
posted by Amber @ 3:17 PM

OMG! New Magknits!
Ada June - Cute. I hope magknits is still running if/when my friends have babies, so I can make this hat for them. (Print it out now? Feh!)

Brigid - I wish there were more views. But it looks like a good way to cut your teeth on some lace, if you don't want to do a boring old rectangle.

Diamond Girl - Normally I'm not a fan of things that bisect my chest. But I inexplicably love this. I'm definitely going to de-puff the sleeves, and probably use ribbon instead of icord. Maybe have the quilting come down a touch more?

Friday - You know, the purl side is really pretty! I see myself with one of these (made longer) this winter. I love the little knubs!

Rivendell - I must have this hat! Did you see the picture of the top? What a perfect crown! Although, I might throw in a rib in those big sections of reverse stockinette, just to give it a bit more grip. Maybe.

Reduce Reuse Recycle - I've always wondered what the sag factor on a plastic-plastic bag would be. But cute still. [One time, I saw someone who was looking for places to buy colorful plastic bags, so she could cut them up and turn them into a 'recycled' plastic bag. And did not see how this was an afront to the idea of the knit plastic bag as a way to reuse the bags.]

Zoe - Huh, that looks a lot smaller than the dimensions given. I'm not a purse user, and the I think the ruffle needs twice as many ruffles (making it look fuller. And to point down a little more.

Overall, I think this is one of the better issues they've had in a while!
posted by Amber @ 8:55 AM