May Knit Goals!
I'm prone to being a scatterbrain, so I try to make a short list of things to accomplish each month (lest I have 27 different non matching socks).
No throwing books during finals - Sucess!
Finish Yarrow Rib #2
Start (finish?) Entrelac Socks
Start Eunny's Vest, Ribbi Cardi #2
Work on Dumb Scarf
On the Sticks
K1, YO, K2Tog Scarf
Yarrow Ribbed Sock
Rogue
Raglan with lace panel sleeves
Ribbi Cardi #2 (black/purple)
Sweater-A-Month 2007
Picovoli: Cathay - Needs blocking
Cabled Hoodie: Cascade 220 - Needs seams
Urban Aran
Durrow - Done!
KnitPicks' Kimono Sweater: Silky Wool
[Sort of] Samus: Chester Farms 2-ply worsted - Some seaming and a whole lot of i-cord left
Ruffli Cardi
Top Down Raglan: Nashua Creative Focus Worsted - Needs blocked
Tricot: Ella Rae Classic (?)
Janda: Rowan All Seasons Cotton (gray/lavender/white) - Done!
Tubesque: Noro Garden + ???
Springfield (Cabley Twisty Rib Raglan): Cotton Plus
CeCe: ??
Lucy in the Sky: Shelridge Farms W4 (pink lemonade)
Rogue: Handspun
Shawl Collar Cardigan: Kathmandu Aran Tweed - Done!
Elizabeth Zimmermann's Bog Jacket
Ribbi Cardi: Cotton Ease (Black/Purple)
Ribbi Cardi: Cotton Ease (Blue/White)
Simple Knitted Bodice: Silky Wool?
Be a joiner!
An Unused Box!
Something should go here.
Socks on Two Circs - Day 1
Sunday, March 26, 2006
I managed to do a short row heel right, the first time! Woo hoo!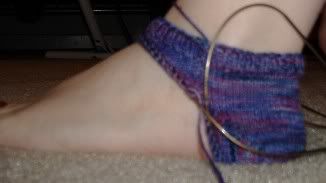 Yesterday, from class.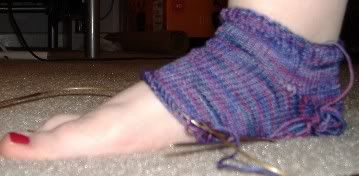 Today, when I got tired of the sweater.

Koigu. The yummiest of yarns.
posted by Amber @ 8:55 AM

FO - Broadstreet
Saturday, March 25, 2006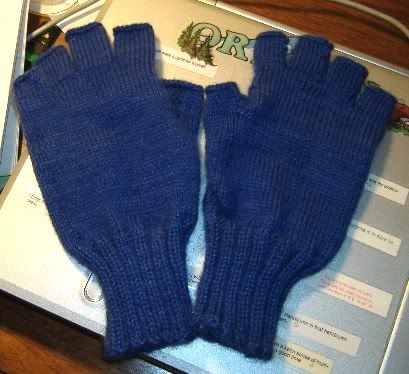 Pattern: Broad Street (sans flap) by Janis Cortese, from Knitty.

Yarn: KnitPicks Ambrosia (80% baby alpaca, 20% cashmere. In "Night Sky". I used just under one ball for each mitten. (The yarn is just like butter. I'll have to see how they wear, right now, the alpaca component is a little prickly on my skin. Perhaps there will be lavendar & white mittens in the future ... I've been wanting to play with fair isle and I can't think of a softer yarn to experiment with.)

Also, I have two more balls of the Ambrosia (also in night sky), that at least for now have no plans. In case any of the yarny people out there would like to make their own soft and snuggly mittens.

Needles: Size 2, Bamboo

Notes: I changed the gauge from 7 st/inch to 8 st/inch (older photos show how 7 st/inch was just too wide for my hand). I made the right mitten a bit narrower than the left around the palm, but that didn't do much for it really (it isn't noticeably smaller across my hand, but it's just enough that the index finger seems tight because I suck at math and didn't think to add in stitches to keep the fingers the same diameter earlier in the process).

In other news, my betta, Fishstick, just tried to give me a heart attack by playing dead. I changed some of the water and he swam around sideways for a bit, then laid down on the bottom of the tank. He's moving around now (lots of tapping on the glass and dropping a food pellet in), but there for a minute I was very worried.
posted by Amber @ 8:59 AM

Finish things before starting new things? Whaaa?
Friday, March 10, 2006
I'd been considering all sorts of wooly pullovers for my next project ... but then it was over 60 degrees outside this morning, so I'm thinking that maybe something light would be fun for my next project. Like say: Spring Fling!

I was going to do a theoretical ruffly cardi (ruffli cardi, if I wanted to be cutesy cutesi, anyway, a cardigan with a ruffle), which was going to come from my stash - but all I have for that project is black and dark purple yarn, and Spring Fling just seems like it should be white or pink or periwinkle or something. If I made it in cream/white/ecru I could wear it with just about all my summery dresses I never wear because they're all sleeveless, and with most of the skirts I never wear. Will ponder.

(The theoretical sweater is coming along, I'm about 2 inches from finishing the back. I'm feeling kind of meh about doing the front for a second time. First thing I need to do is get a new cable needle. I lost one, and I've been using hairpins, which were fine for a single stitch wide cable on the back of a mitten, but not so good for a giant sweater. Also I'm thinking straight/bell sleeves ala Tubey, rather than tapered (normal) sleeves. Not sure yet. It's harder to roll up Tubey sleeves, but it wouldn't be so hard to fit a long sleeve shirt under it (a problem with the gray sweater I used for reference the other day).

(Also, after seeing this girl's version, I really want to make the KnitPicks Kimono sweater.)
posted by Amber @ 12:53 PM